The cheese speciality mountain cheese / alpine cheese from Austria
This is an excerpt from the cheese lexicon of Alpen Sepp
---
Mountain cheese (=Bergkäse) from Vorarlberg – a special Austrian speciality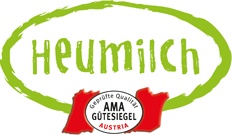 Alpine cheese from the Austrian province of Vorarlberg is a regional cheese speciality. Vorarlberger Mountain Cheese belongs to the hard cheese group.
The wonderful thing about our mountain cheese is that the mountain meadows and alpine herbs give the haymilk its particularly aromatic note and the mountain cheese its hearty taste and intense aroma.
The traditional Vorarlberg cheese speciality is protected by the European designation of origin. As a rule, mountain cheese has a fat content in the dry matter (F.I.T.) of 45%, which corresponds absolutely to a fat content of approx. 33%. The Arge Heumilch from Austria essentially distinguishes 3 mountain cheese qualities in Vorarlberger Bergkäse:
Vorarlberger Bergkäse with 3 months maturing time
With young mountain cheese, the cheese rind exudes a fine, malty-roasted scent. In the cheese dough, aromas of fresh hay, young wood, chestnut and buttermilk are added. The malty notes dominate the taste impression of the 3-month-old cheese.
A fine juiciness follows the crumbly and compact dough, which becomes increasingly smooth.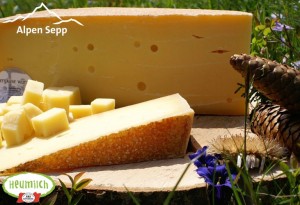 Vorarlberger Bergkäse with 6 months maturing time
The malty fragrance is complemented by fresh aromas of sour cream, citrus fruits and meadow flowers. Yeast and ammonia can also be subtly scented, giving the mountain cheese a somewhat cheeky note.
The taste of dark caramel and roasted white bread is clearly visible on the palate. These combine with meadow flowers, chilli, leather and sour cream to form a harmonious and exciting whole.
The cheese dough is also wonderfully matured, with a compact, crumbly structure that feels beautifully smooth on the palate. This harmony, however, is the result of an animating interplay of salt and sweet components.
Vorarlberger Bergkäse with 12 months maturing time
In the cheese fragrance, rich aromas such as dried fruit and peanut are refreshed with notes of ripe passion fruit and citrus fruits.
Slight hints of cream and malt bring about a sweet association. The cheese begins with a dark aroma. Taste impression: malt, cocoa, dark caramel exude a calm and at the same time noble impression.
Fresh and animating, mature citrus fruits, hazelnuts and sweet cream butter blend in. The crumbly and creamy texture of the cheese is loosened up by crystalline inclusions.
Our alpine cheese / mountain cheese varieties in the cheese shop
---