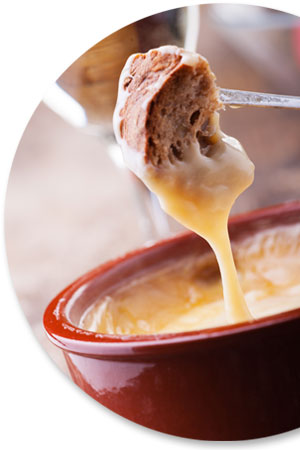 Ready to use cheese fondue – a fondue created with our cheeses – all made from 100% HEY MILK!
The organisation of our premiumHere in Austria, we call our fresh, natural milk for our cheese production hay milk (hay mild standard) - in Germany it is different. » More info cheese fondue took longer than we planned. Our promise: You will taste it and discover for yourself: It was worth to wait for it!
Discover with this cheese dish a ready made cheese fondue – completely free from flavor enhancers and modified starch – but with over 66 % cheese content. Try to find such a cheese fondue somewhere else !
Say HELLO to the CHEESE FONDUE MAGIC of our Alps and just try it
Our alpine cheese fondue contains 66% hay milkHay milk comes from cows that are fed exclusively with fresh grassland feed, hay and little grain. » More info cheeses in the ready to use fondue preparation – consisting of the cheeses mountainThe Vorarlberger Bergkäse (mountain cheese) is a regional cheese specialty from the Austrian province Vorarlberg. » More info cheese, semi hard ​​cheeses and emmental cheese.
The fondue result of our dairymen is something to be proud of. BuyThe purchase of food and cheese via the Internet. A big and very interesting topic in this area will probably be the easy and quick access to specialties such as - for examle - cheese. » More info and try our ready-made cheese fondue specialty and delight your guests.
Step 1: Buy our ready to enjoy cheese fondue with very high cheese content
Step 2: Easiest and fastest cheese fondue preparation with our recipe
The quickest and easiest way is to buy first our ready-made cheese fondue. Rub the fondue pan with a clove of garlic. Then slowly heat up the cheese fondue mixture with a dash of lemon juice on the stove while stirring constantly over medium heat. In short time the cheese fondue is creamy bound and ready to eat.
Other accessories for your perfect cheese fondue:
Cheese fondue side dishes as needed
Optional: cheese fondue sauces
With a glass of cherry brandCheese packaging must have certain markings. The purpose of these markings is to protect the consumer from deception and to announce the supply of certain information about the product. » More info, pepper and nutmeg, you can give your cheese fondue your personal flavor – milder or more spicy, depending on your taste. Afterwards cook it for another two minutes with constant stirring – and your cheese fondue from the alpine region is ready.
Our approach: Best cheeses and a special recipe for the extraordinary cheese fondue
Cheese fondue taste intensity (mild – spicy)
Consistency cheese fondue (liquid – tough)
Fondue sticks to the piece of bread and does not run down
Cheese fondue storage (1 – 30 days)
at least 4 weeks in the
fridge
Ripened cheese likes it cool and moist. The best is a temperature of about 8-10 ° C at about 90% humidity. » More info
or freeze for longer
Background information on the original "Swiss" cheese fondue