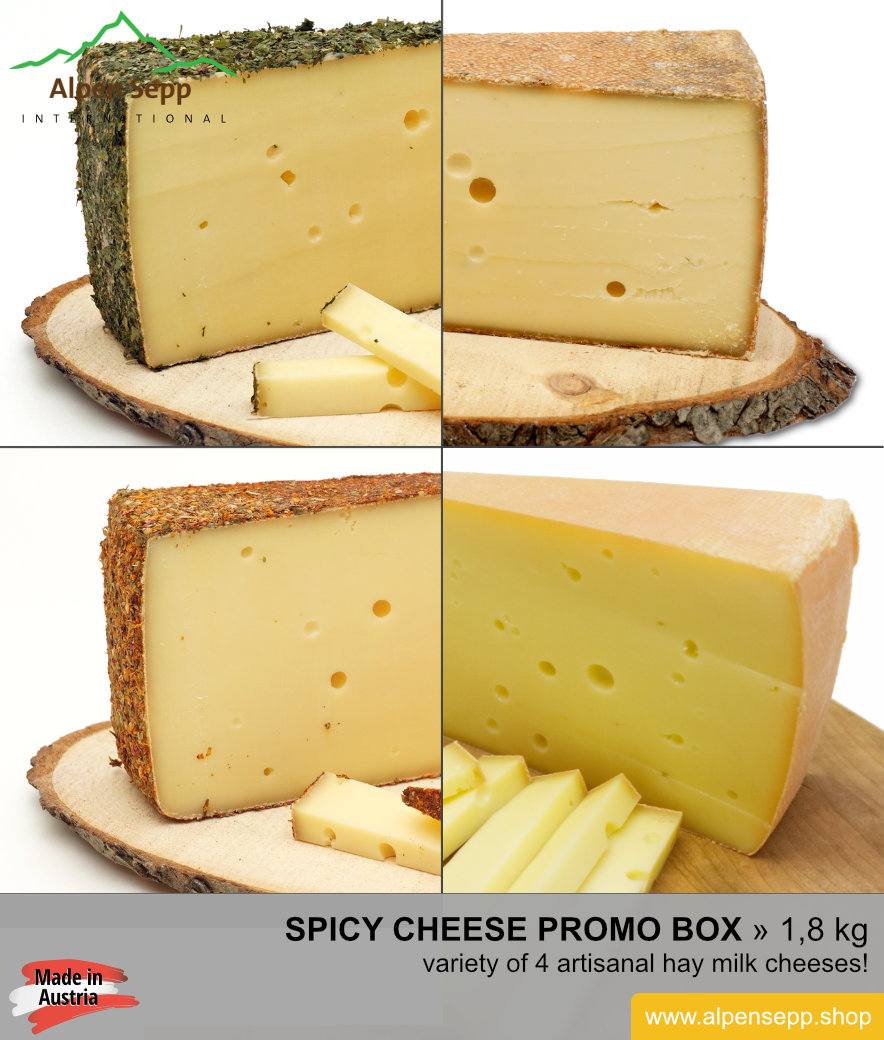 BLOGGING IS PASSION.
Foodbloggers combine this passion with pleasure!

When it comes to special culinary delights, this wonderful Mmmmmh moment in everyday life, then our gourmet shopThe purchase of food and cheese via the Internet. A big and very interesting topic in this area will probably be the easy and quick access to specialties such as - for examle - cheese. » More info ALPEN SEPP shows all its strengths. More and more people discover our alpineThe Vorarlberger Bergkäse (mountain cheese) is a regional cheese specialty from the Austrian province Vorarlberg. » More info products in haymilk cheese, alpine butter, hard sausages from alpine game, etc. and simply don't get enough of them.
Again and again we receive feedback and we are more than happy to read everything else. It is simply wonderful to read when people try to put the incredible moment of pleasure into words and tell us about it. We collect all of them under references (in the menu at the top).
The best from Alpen Sepp for your foodblog or product test blog
Every single product is a sensation in itself and what could be more beautiful than to awaken the star chef? And the ideas for this magic in the kitchen are best taken from the food blog like yours.
Because here you report directly from the cooking practice, unembellished, unadulterated – just as it was. And we think that's simply great. Or you have a test blog and report on the application for your readers. With our food specialities, the unique smell and the pleasure factor that you experience. Casual!
No matterThe dry matter refers to that portion of the cheese that remains after removal of the water contained. The more water is removed from the cheese, the lower its dry matter and vice versa. » More info how you make your blog with food interesting for your readers, we would be very happy to support you with a unique pleasure project. Another casual story for your blog will be it in any case and if you want even more.
Request your "reviews pleasure box" for your blog right now!
Very simply you come to your pleasure box for your Blog. Apply with the following application as foodblog or testblog – please fill out completely so that we can ask questions, also by phone. With the registration you activate yourself also immediately for our newsletter so that you remain top informed about Alpen Sepp news. In our newsletter you will also find tips on products for your blog.
If everything fits you will receive within 48 hours an advantage code for 30% discount on a bonus order for your blog. This code is redeemable once. With the redemption you agree to write about the ordered products within 4 weeks after delivery on your blog and send us the link so we can distribute the URL to your blog. PS: Take a look at our affiliate system (below).
Your application for Reviews Test Box as Blogger
Affiliate Partner at Alpen Sepp – May it be something more?

Blogging is passion, all right. However, blogging is also a valuable work for other people and can be very time consuming. We want to value your work in the form of payments or shopping vouchers in the cheese shop. The key is our affiliate system
With the registration to the Affiliate program you receive a partner number (code) from us and receive a commission if it comes through you to an order. And it couldn't be easier. If you write your review about Alpen Sepp, simply link the tested products directly to our shop and add your partner number. That's it. If then a reader of yours the cheese, sausage, clarified butter, … ordered from us is a thank you in Euro or as a fixed voucher.
To the Affiliate Program
Foodblogs and test products blogs reporting about Alpen Sepp
Meine Testecke von Manuela Candal
Alex & Andrea Produkttest Welt
Netzsieger
Schmitteinander Produkttest Blog