You ♥ good cheese to wine?    We ♥ good wine to cheese!
Let's make what out of it and spoil your guests and customers!
Just register and get started. Your customers will be thrilled to experience this combination. Our motto: Together is always better. We help each other and our common customers are happy.
As a wineyard, restaurant or hotel owner or catering company, you and your guests will benefit from a full-length collaboration. You have immediate access to the best, selected hay-milk cheeses from tauf Austrian alps region, directly from our alpineThe Vorarlberger Bergkäse (mountain cheese) is a regional cheese specialty from the Austrian province Vorarlberg. » More info cheese cellarThe alpine cheese is best located in a cellar with high humidity. » More info.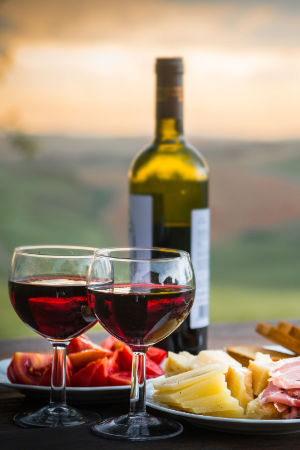 You get this pleasure at Alpen Sepp
Whole cheese wheels are made from 100% best hay milkHay milk comes from cows that are fed exclusively with fresh grassland feed, hay and little grain. » More info.
Cheese pieces in various weights – perfectly deep-drawing-formed vacuumised
Game sausages from our alps region
Valuable discounts with graduated prices for hotel / restaurant owners, etc.
Passion for alps cheese for your wine!
We have a fine selection of hay-milk cheeses from the Austrian alps
Additional turnover: You can offer your customers self-service products to take away – without any cutting effort.
Optional: Individual voucher code to take away (or onlineThe purchase of food and cheese via the Internet. A big and very interesting topic in this area will probably be the easy and quick access to specialties such as - for examle - cheese. » More info) for the guest – when he orders, you receive commission from us.
One thing's for sure in any case. Your customers will be completely surprised and thrilled by this unusual qualityDetecting cheese defects and quality - on the cheese dough. Recognizing cheese defects requires some practice. » More info. We experience this ourselves every day.
How does Alpen Sepp work?
We deliver 1x per week the orders of the previous week on Tuesday in fresh dispatch.
You register HERE on this page as business client
After the activation you will see the standard price crossed out and your purchase price incl. VAT. In addition, a discount scale according to quantity is activated for you. From only 3 pcs. additional quantity discount and from 30 pcs. the next discount level.
We deliver at low shipping costs (of free), therefore a minimum order of 500 Euro per order is necessary – please ask for details.

The short way to register as hotel / restaurant business partner at Alpen Sepp
After your registration you will receive as soon as possible the conditions in your personal account, it is very likely that we will call you personally for a first personal conversation and also to discuss our values of cooperation.
If you are interested in talking to us before you register, please contact us. Phone: +43 664 2055557.
We are looking forward to seeing you!
Your Alpen Sepp Team