ARTISANAL WILD BOAR BITER – special smoked, dry sausage from Austrian alps region
In German language called Wildschweinbeißer (biter = Beißer)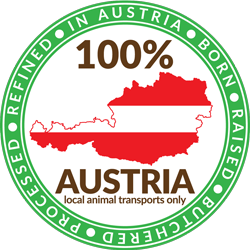 The wild boar biter (a kind of smoked raw sausage) impress with their ingenious recipe. They are an ideal, naturalHere in Austria, we call our fresh, natural milk for our cheese production hay milk (hay mild standard) - in Germany it is different. » More info natural snack for in between!
One of the most famous wild animal is the wild boar (wild boar). It has been used to make sausages and meats since Roman times. The natural taste of the meat finds its greatest expression in ham and sausages.
The careful preparation of our master sausage maker, as well as the fine tuning of the used spices results in an excellent and very tasty product from wild game.
It is made according to a traditional "wild boar and bacon" recipe. Refined with nobleMold cultures are aroma-forming noble molds that grow on the surface (white noble mold) or inside a cheese (blue and green mold). » More info natural spices, carefully smoked with beech wood and seasoning smoke. Finally after air drying for 3 weeks the typical aroma and sausage taste is reached. Our wild boar sausage consists of 128 g wild boar meat and pork bacon per 100 g finished sausage.
Sausage type raw sausage
Raw sausage is a sausage type. One distinguishes cut-firm and spreadable raw sausage. The base forms raw, that means not heated meat.
Raw sausage production
The meat is minced with the addition of table salt or other technologically effective salts such as nitrite curing salt – depending on the fineness
Raw sausage ripening
During the ripening process of a raw sausage, lactic acid bacteriaBacterium Linens (red culture bacteria) are brushed with salt water on the cheese. » More info convert the meat's own and added sugars into lactic acid and flavor-active compounds. Then the sausages are often cold-smoked.
Enjoyment classification wild boar biter
The peculiarity of of this wild boar sausage is the pleasant, not intrusive wild taste with pleasant smoking.
Wild boar biter intensity (mild – spicy)
Wild boar biter consistency (soft – hard)
Wild boar biter shelf life (1 – 6 months)
at least 2 months shelf life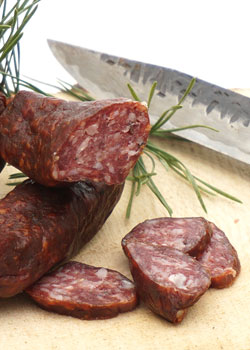 Interesting details on wild boar animal
Background information on the non-native wild game in Vorarlberg wild boar
The wild boar belongs to the family of Old World or Real Pigs of the order of the cloven-hoofed animals. Wild boars are omnivorous and very adaptable. Currently, their stock is increasing, especially due to the increased cultivation of corn.
The boar has a powerful, omnivorous bit with 44 teeth. The lower canines of the boar usually have a length of 20 cm, of which, however, rarely more than 10 cm protrude from the jaw. The maximum live weight of adult brooks (common wild boar) in Central Europe is about 150 kg and that of adult boars about 200 kg.
Wild boars can cause significant damage to agricultural land. They dig up whole meadows in search of food. They are very intelligent and therefore difficult to hunt. Female pups can become sexually mature after 8 to 10 months.
Wild boar meat is fatter than deer or venison. Meat of young animals is excellent for stewing and roasting and remains very juicy. Wild boar meat is very aromatic.
Special facts about wild boar
Wild boars can even inhabit cities and is an "adaptation artist"
Reproduction can be adapted quickly and extremely effectively to different living conditions, especially the nutritional situation
No more enemies – predators rarely play a role here today
Wild boar is our only non-ruminant hoofed game species
Today's agriculture provides sows with plenty of milkCheese milk is the milk intended for the production of cheese, also with the concomitant use of buttermilk products, cream products, sweet whey, sour whey and whey cream (whey cream) » More info for months
The hunters have so far failed to manage the escalating stocks, because the hunting of the situation is not adapted and is hampered by modern agriculture