EU protection of regional cheese specialties
ProtectionTo protect the cheese wheel, it is put into salt bath or turned into dry salt. The salt removes water from the cheese and it dries faster. So the rind is formed. » More info of origin or protection of origin are statutory regulations.
They ensure that a particular product can only be designated by its name if it comes from a specific area and complies with the rules of manufacture, composition and characteristics specified therein.
Cheese specialties are a cultural value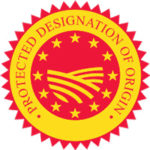 Cheese specialties in particular reflect a piece of ethnoculture and the identity of a particular area. The origin of a cheese specialty is something special and wants to be protected.
Top qualityDetecting cheese defects and quality - on the cheese dough. Recognizing cheese defects requires some practice. » More info cheeses deserve this geographical indication in the name only if they have been produced in this region according to the rules of manufacture, composition and properties specified therein.
In AustriaSince 2004, ARGE Heumilch Österreich has been bringing together around 8,000 hay-milk farmers and more than 60 dairies. » More info, there are only six cheeses that enjoy this origin protection. Among them are also the Vorarlberg mountainThe Vorarlberger Bergkäse (mountain cheese) is a regional cheese specialty from the Austrian province Vorarlberg. » More info cheese and the Vorarlberg alp cheese.