Cheese grains (curds) baking – compacting the broken cheese grains by heating up
The thickenedThe milk is pre-acidified and thickened with the help of the rennet (calf rennet, microbial labs of bacteria or pepsin). The milk coagulates and a firmer mass forms. » More info milkCheese milk is the milk intended for the production of cheese, also with the concomitant use of buttermilk products, cream products, sweet whey, sour whey and whey cream (whey cream) » More info (milk jelly) is cut into small pieces (raw cheese grains) with the "cheese harp". The firmer the cheese should be, the smaller the cheese grains become. The dairyman is indispensable here. The right time to cut is still largely determined by manual testing.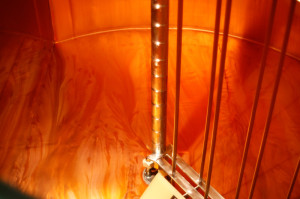 Depending on the type of cheese, this cheese curdAs break (or cheese curd) is called in the dairy, the resulting material, which is formed from the milk by the addition of rennet or lactic acid to the milk breakage. » More info is then gently heated to 50-55 ° C in the copper kettle, so that the broken grain contracts further and loses even more wheyWhey is the watery greenish-yellow liquid that results from cheese making. » More info, which is called "burning of the break ".
The higher the temperature, the more whey comes out and the higher the dry matterThe dry matter refers to that portion of the cheese that remains after removal of the water contained. The more water is removed from the cheese, the lower its dry matter and vice versa. » More info. By further processing, the water content and thus the strength and shelf life of the cheese is influenced.
Wash the break
After cutting the jelly, some of the whey is replaced with water to reduce the proportion of milk sugarPeople with lactose intolerance can not or only insufficiently digest milk sugar (lactose or lactose). » More info and thus the level of acidificati
Video: "Burning" the raw cheese grains