Red culture bacteria for the spicy cheese taste
Bacterium Linens (red culture bacteria) are brushed with salt water on the cheese. The red culture gives the cheese a yellow-orange rind and a spicy taste.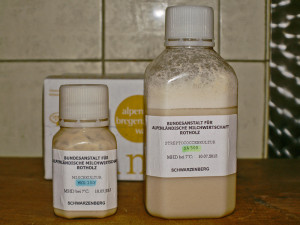 Just a tiny amount is enough to give the cheese its distinctive scent.
The bacterium feeds on the protein of the milk. Excretions are ammonia, amines and sulfur derivatives. These substances smell stinging and putrid (similar to spoiled eggs).
Of course, the traces of this smell can also be found later in the cheese.
Back to the cheese encyclopedia