Regional and fair – Cheese from Vorarlberg: Controlled quality and genuine craftsmanship
Source: Article from Luag Magazine, Landwirtschafskammer Vorarlberg – 5/2015 – Report cheese from Voralberg for download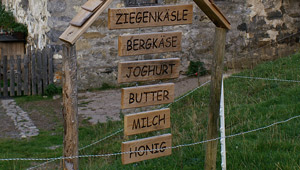 If someone in the German colloquial language says "What kind of cheese", this usually means a pejorative opinion to a certain statement.
In Vorarlberg, the sentence has a completely different, pleasurable meaning among cheese lovers from near and far. What is meant is the culinary elation when one of the more than 60 cheese specialities produced in the country pampers the palate. The Vorarlberg alpine dairymasters have earned themselves an excellent reputation with a great deal of skill and knowledge.
This is also reflected in the variety of recipes in the local cuisine. Hardly any guesthouse or private household in the country can do without the variety of local cheeses and many chefs are constantly inventing new cheese dishes.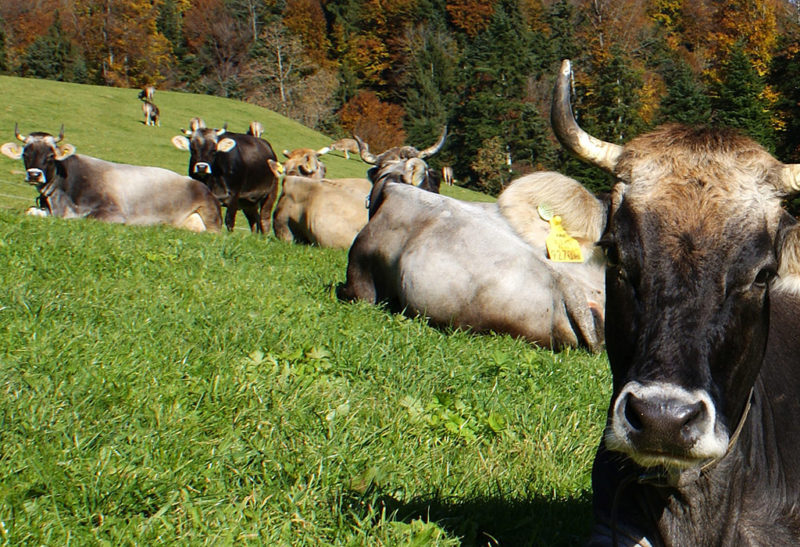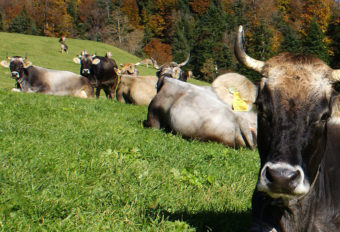 The basis for cheese production is cow milkCheese milk is the milk intended for the production of cheese, also with the concomitant use of buttermilk products, cream products, sweet whey, sour whey and whey cream (whey cream) » More info. In an international comparison, this is milked on the small 1,220 dairy farms in the province. In order to satisfy the demand for our cheese, around 25.000 dairy cows of various breeds "work" for this enjoyment. With an average milk yield of 6,600 kilograms of milk per cow and year, one is far away from the so-called turbo cow, which as a milk spitting monster cattle ghosts through various heads (more on this on page 24).
The worldwide unique "three-stage economy" in our alpine area means animal husbandry from the valley to the high altitudes of a good 500 Alps. This is necessary because there are not enough feeding areas available for the animals in the valley alone.
"The most important aspect of milk production is the feeding, care and keeping of dairy cows. The milk laboratory of the Chamber of Agriculture, but also the numerous controls at the processing plants and external control bodies guarantee consumers the highest qualityDetecting cheese defects and quality - on the cheese dough. Recognizing cheese defects requires some practice. » More info," says LK milk expert Othmar Bereuter.
Medicine has known for a long time that milk and milk products not only taste good but are also healthy. Calcium, high-quality proteins and easily digestible fats supply the body with the necessary substances, and nature is always better than vitamin tablets or artificialVegan cheese, analogue cheese, artificial cheese or cheese imitation are food products that resemble cheese cheese when compared to real cheese. » More info food supplements.
Facts about the Vorarlberg dairy industry
Dairy farms: 1,220
Dairy cows: approx. 24.500
Milk production: approx. 165 million kilograms per year, of which about 140 million kilograms are used for milk processingBaktofugation is a process in which a specially designed hermetic centrifuge is used to separate bacteria and spores of certain bacterial strains from the shell milk. » More info such as cheese, butter, etc.
Cheese production: approx. 9,600 tons per year
Maintained Alps: approx. 500
Variety of cheeses: over 60 different cheeses
Numerous dairy products such as cream cheese, butter, yoghurt, milk drinks, cream, etc.
Cheese processors: 28 small dairies, 130 alpine dairies and 4 larger companies
Our "Vorarlberger cheeses – easy and convenient to order online in the cheese shop