ARTISAN SEMI-HARD SMELLY SPICY CHEESE – smear-ripened & wet matured – HAND MADE FROM DAILY FRESH HAY-MILK
In German language called Rässkäse – nassgereift.
Discover a completely new cheese creation and taste explosion from our master cheesemaker. The wet smeared semi-hard cheese is a naturally ripened cheese made from fresh hay-milk with extreme spicyness and extreme cheese odor.
Here you can almost say: "If it is too strong, then you are too weak".
The cheese has a white-smeared surface – not a real rindTo protect the cheese wheel, it is put into salt bath or turned into dry salt. The salt removes water from the cheese and it dries faster. So the rind is formed. » More info. The strong smelly cheese dough consists of lots broken eye formations. The complex cheese taste is described as super intensiv. The smelly-spicy cheese wet is used, because of its very intense seasoning, in traditional dishes from the alps. In cheese production, the wet ripened cheese hardly differs from the dry ripened.
The wet matured difference: The cheese wheel is packed in foil after the saltwater brine bath and smearRed smear is a surface threatment method used during cheese making and maturing. » More info treatmend by the cheese master and stored in the maturing cave at approx. 14 °C. This creates a unique and very taste-intensive palate experience.
The unmistakable striking pungent aromas and flavors of smelly-spicy semi-hard cheese put them in a class of their own. While many cheeses may be considered stinky, most stinky cheeses originate in the family of smear-washed-rind cheeses.
Our wet-smear-ripened-smelly-cheese is treatened with solutions of bacteria or fungi (most commonly Brevibacterium linens, Debaryomyces hansenii or Geotrichum candidum). This treatment gives them a stronger flavor as the standard washed rind cheese process. Unlike blue cheeses, which ripen from the inside out, smear-washed-rind cheeses ripens from the outside in.
A smear-washed-ripened cheese matures through bacterial growth on its surface. Washing the cheese rind with special salty liquid prevents moldMold cultures are aroma-forming noble molds that grow on the surface (white noble mold) or inside a cheese (blue and green mold). » More info growth and encourages bacteria growth, causing chemical reactions within the cheese to create nutty, buttery, woodsy and complex flavors. Thanks to theese bacteria the very special "stinky" aromas originate are prduced on the cheese surface.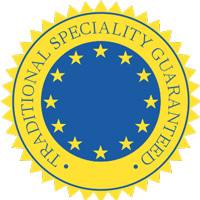 Semi-hard cheeses are evenly ripened cheeses with a firm, smooth consistency and small slit- or grain-shaped eyes, or a broken eye formation depending upon the breaking strength of the cheese.
The characteristic properties of the artisan alpine semi-hard cheeses are significantly influenced by the high-quality alpine raw milkThe cheese is made from fresh milk, which was not treated at the beginning of the cheese making process (raw milk). It is almost as it comes from the cow's udder. » More info (hay-milk), its ingredients and taste and consistency, and by the Vorarlberg alpine flora. This results in the special qualityDetecting cheese defects and quality - on the cheese dough. Recognizing cheese defects requires some practice. » More info of the alpine semi hard cheeseThe Vorarlberger Bergkäse (mountain cheese) is a regional cheese specialty from the Austrian province Vorarlberg. » More info.
Cheese holes in wet smelly-spicy cheese
The wet artisan smelly cheese dough consists of lots of broken eye formations.
The wet smelly-spicy cheese rind
Typical white-smeared cheese rind by treatment with salt water and redAerobic cheese ripening means cheese ripening with oxygen. » More info smear bacteria.
Storage and maturation of wet smelly-spicy cheese
The wet smelly spicy cheese is stored for about 4 months in the cheese cave before being eaten with pleasure.
Indulgence classification of artisan smelly-spicy cheese – wet smear maturation
The peculiarity of this semi-hard smelly cheese is the extremely intense odor and taste. It unfolds its full aroma at room temperature.
Smelly cheese intensity (mild – spicy)
intensive smell and spicy
Smelly cheese consistency (soft – hard)
Smelly cheese mature duration (1 – 6 months)
Additional details about the smelly-spicy cheese – 

wet smear matured
Smelly-spicy cheese – wet ripened – quality characteristics
| | |
| --- | --- |
| MilkCheese milk is the milk intended for the production of cheese, also with the concomitant use of buttermilk products, cream products, sweet whey, sour whey and whey cream (whey cream) » More info: | 100% silo-free hay milkHay milk comes from cows that are fed exclusively with fresh grassland feed, hay and little grain. » More info – drawed by hand |
| Type of cheese: | Semi hard cheese |
| Mature: | Lactic acid and / or fermentation ripening and surface maturation with red cultureBacterium Linens (red culture bacteria) are brushed with salt water on the cheese. » More info |
| Cheese flavors: | spicy, strong smell |
| Mature time: | at least 4 months |
| F.D.M.: | at least 35 % |
| FatThe dry matter refers to that portion of the cheese that remains after removal of the water contained. The more water is removed from the cheese, the lower its dry matter and vice versa. » More info abs.: | approx. 25 % |
| Allergens: | No other allergenic potential except milk components |
| LactosePeople with lactose intolerance can not or only insufficiently digest milk sugar (lactose or lactose). » More info: | not contained |
| RennetNatural rennet is a mixture of the enzymes chymosin and pepsin, which is obtained from the abomasum of young ruminants in milk-drinking age. » More info: | naturalHere in Austria, we call our fresh, natural milk for our cheese production hay milk (hay mild standard) - in Germany it is different. » More info, animal rennet from cow |
| Salt: | iodine-free salt |
How can you imagine a smelly-spicy 
cheese – wet aged

?
What makes the wet smelly cheese special – the cheese character?
Spicy, strong-smelling cheese that makes the heart of cheese lovers beat faster.
How does the wet smelly cheese taste?
Spicy, spicy to spicy – depending on age.
How is the haptic – how is the cheese dough consistency?
Less supple to slightly friable cheese dough.
How is the colour of the cheese?
Whitish to yellowish dough, very seasonally dependent
How does the cheesecake smell?
Spicy, strong smell due to the intensive ripening and the strong red smear formation.
How does the chees holes look like?
Lots of broken small cheese holesThe large round holes (round holes, fermentation holes) are caused by fermentation gases of bacteria (for example, the propionic acid bacteria in Emmentaler, etc.). » More info
How is the cheese best enjoyed? The best cheese enjoyment

Part of Käseknöpfle mixture
For various dishes
Proper storage of wet smelly-spicy cheese
If you want to storeThe alpine cheese is best located in a cellar with high humidity. » More info large pieces or a whole wet smelly cheese wheel more than 2-3 weeks, we recommend the use of a tea towel. To do this, take a clean tea towel, soak it in salted water (just add a little salt), squeeze it out and wrap the cheese with the damp cloth. Ideally, this process is repeated every 2-3 days.
If the cheese turns white or stains it is usually the salt or proteinCasein is a constituent of the protein (protein) of cow's milk, which is obtained for cheese production. » More info that crystallizes due to the temperature difference. These places are easy to rub off.
The use of aluminum foil is possible (but we advise against it) if it is supplemented with many small holes because of the air supply.