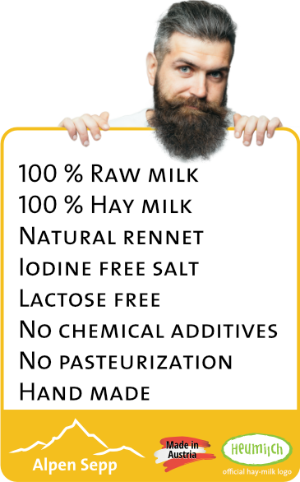 ALP BLOSSOM CHEESE | ARTISANAL MEDIUM-HARD CHEESE – MILD – HAND MADE FROM DAILY FRESH HAY-MILK.
In German language called Blumenkäse.
Artisanal made medium-hard cheese, which is "flavored" with natural herbs, is appreciated by more and more people.
Our blossom medium-hard cheese speciality presents itself with smooth dough and delicate flowers scent from a dried edible flowers & herbs mixture.
With the artisanal blossoms cheese from our MASTER CHEESMAKER Hermann Berchtold you hold a special type of NATURE medium-hard cheese in your hands.
Basis of Hermann's blossoms cheeses are the best raw cheeses from various, selected artisanal working partner dayries.
These then pass into the natural cheese cave of the Berchtold family, where the further cheese washed rind care and maturation continues.
Our blossom cheese gets its aroma by traditional hand care, its cheese rind is covered with a special tea, blossoms and herbs mixture.
This cheese treatment brings diverse aromatic touches of various kinds of blossoms into the cheese dough and increases the whole taste experience. Its cut-surface is creamy white and made of firm dough.
Important note: As a purity requirement of our premium quality cheeses, we never add additives such as spices, herbs etc. into the cheese dough. Only the cheese rind is treated.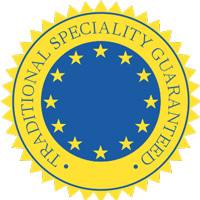 Medium-hard cheeses are evenly washed-rind cheeses with a firm, smooth consistency and small slit- or grain-shaped eyes, or a broken eye formation depending upon the breaking strength of the cheese. Medium-hard cheese is the type of cheese that is basis for most of the cheeses.
The characteristic properties of the artisan blossoms cheese are significantly influenced by the high-quality alpine raw milk (hay-milk), its ingredients and taste and consistency, and by the Bregenzerwald alpine flora. This results in the special quality of the medium-hard cheese.
Cheese holes in blossoms cheese
The artisan blossoms cheese has few, cherry-sized holes. Its cut surface is creamy white and made of firm dough.
The blossoms cheese rind
The cheese rind is coated with a special mixture of tea blossoms and herbs.
Storage and maturation of blossoms cheese
The blossoms cheese is stored and carefully cared for about 10 weeks in the cheese cave. After this step the dried edible flowers & herbs are added on the cheese rind.
Indulgence classification of alp blossoms cheese
The peculiarity of the blossoms cheese is the complex, unique cheese flavor that comes out because of the treatment with a special tea blossoms mixture.
Blossoms cheese intensity (mild – spicy)
Blossoms cheese consistency (soft – hard)
Blossoms cheese mature duration (1 – 6 months)
3 months in cheese cellar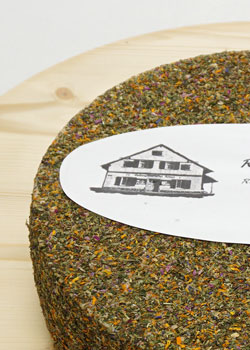 Additional details about the blossoms cheese
Blossoms cheese quality characteristics
| | |
| --- | --- |
| Milk: | 100% silo-free hay milk – drawed by hand |
| Type of cheese: | Medium-hard cheese |
| Mature: | Lactic acid and / or fermentation ripening and washed rind care |
| Cheese flavors: | mild, supple, gently melting |
| Mature time: | at least 3 months |
| F.D.M.: | at least 45 % |
| Fat abs.: | approx. 35 % |
| Allergens: | No other allergenic potential except milk components |
| Lactose: | not contained |
| Rennet: | natural, animal rennet from cow |
| Salt: | iodine-free salt |
How can you imagine a alp blossom
cheese taste

?
What makes the blossoms cheese special – the cheese character?
Cheese flavored with edible blossom and herbs. A special taste experience!
How does the blossoms cheese taste?
The taste is mild aromatic, the blossoms and herbs unfold their aroma, making the cheese pleasant taste-intensive.
How is the haptic – how is the cheese dough consistency?
The dough is cut firm to supple
How is the colour of the cheese?
Whitish to yellowish dough, very seasonally dependent
How does the cheesecake smell?
Cheese smells of flower meadow and fresh hay
How does the chees holes look like?
A few cherry-sized holes
How is the cheese best enjoyed? The best cheese enjoyment

Eyecatcher on cheese plates. On the break bread / snack, for breakfast or just sliced for dinner.
The rind, as well as the blossom/herbs mixture are edible.

How do you recognize the not optimal cheese maturation – lower cheese quality?
The cheese should be soft but not sticky.
Proper storage of blossoms cheese
If you want to store large pieces or a whole blossoms cheese wheel more than 2-3 weeks, we recommend the use of a tea towel. To do this, take a clean tea towel, soak it in salted water (just add a little salt), squeeze it out and wrap the cheese with the damp cloth. Ideally, this process is repeated every 2-3 days.
If the cheese turns white or stains it is usually the salt or protein that crystallizes due to the temperature difference. These places are easy to rub off.
The use of aluminum foil is possible (but we advise against it) if it is supplemented with many small holes because of the air supply.