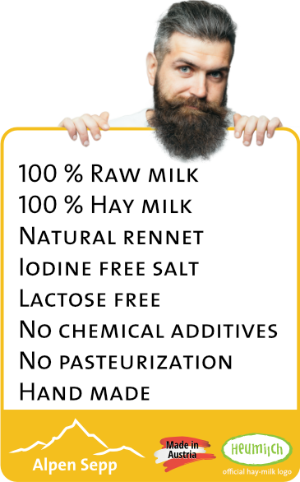 BIG GOURMET BOX – PREMIUM VARIATION OF CHEESE AND SAUSAGE SPECIALTIES
Cheese pieces sizes:
Semihard cheese about 200 g
Alpine cheese about 300 g
The gourmet box compilation can also be used as a hearty bread meal, with different kinds of sausages and cheeses – ideally served with side dishes on a wooden board. In AustriaSince 2004, ARGE Heumilch Österreich has been bringing together around 8,000 hay-milk farmers and more than 60 dairies. » More info, this kind of dish is very popular especially at guest wine yard gardens called Heurigen in Austria
Relaxed snacks on a rustic wooden board – with delicious dry or hard sausages and salami specialties
Due to the many customer queries, the basic ingredients – our alpine cheese varieties and wild sausage varieties – are now available as practical gourmet box. You only need the supplementary side dishes such as cucumbers, onions, horseradish, spreads and many more. There are no limits to your creativity.
With little effort, you can inspire your family or your guests with the best qualityDetecting cheese defects and quality - on the cheese dough. Recognizing cheese defects requires some practice. » More info products from Austria.
Additional details about the BIG sausage and cheese gourmet box

Cheese – sausage assortment of the big gourmet box
The big box contains the following cheeses and sausages and is also ideal as a gift to good friends:
Cheeses:

1 piece cream cheese
1 piece dairyman chees – spicy
1 piece edition cheese
1 piece emmental cheese
1 piece apple cider cheese
1 piece wine cheese
1 piece blossoms cheese
1 piece chili cheese
1 piece herbal cheese
1 piece pumpkin cheese
1 piece ramson cheese
1 piece smelly spicy cheese dryThe dry matter refers to that portion of the cheese that remains after removal of the water contained. The more water is removed from the cheese, the lower its dry matter and vice versa. » More info
1 piece smelly spicy cheese wet
1 piece alpine cheese mild
1 piece alpine cheese spicy
1 piece alpine cheese expra spicy
1 piece alpine cheese special spicy
1 piece Rehmocta cheese

Sausages:

Landhunters 2 pairs – 190 g
Kaminwurzen 2 pairs – 250 g
Pepper biter 2 pairs – 210 g
RedAerobic cheese ripening means cheese ripening with oxygen. » More info deer biter 1 pair – 130 g
Gamswurzen 1 pair – 120 g
MountainThe Vorarlberger Bergkäse (mountain cheese) is a regional cheese specialty from the Austrian province Vorarlberg. » More info salami 1 rod – 400 g
Red deer sausage 1 rod – 320 g
Wild boar biter 2 pairs – 130 g
Red deer landhunter 1 pair – 140 g
Red deer salami 1 rod – 300 g
Deer salami 1 rod – 300 g
Wild boar salami 1 rod – 300 g
Chamois salami 1 rod – 300 g
Proper storage of cheeses
If you want to storeThe alpine cheese is best located in a cellar with high humidity. » More info large pieces or a whole cheese wheel more than 2-3 weeks, we recommend the use of a tea towel. To do this, take a clean tea towel, soak it in salted water (just add a little salt), squeeze it out and wrap the cheese with the damp cloth. Ideally, this process is repeated every 2-3 days.
If the cheese turns white or stains it is usually the salt or proteinCasein is a constituent of the protein (protein) of cow's milk, which is obtained for cheese production. » More info that crystallizes due to the temperature difference. These places are easy to rub off.
The use of aluminum foil is possible (but we advise against it) if it is supplemented with many small holesThe large round holes (round holes, fermentation holes) are caused by fermentation gases of bacteria (for example, the propionic acid bacteria in Emmentaler, etc.). » More info because of the air supply.