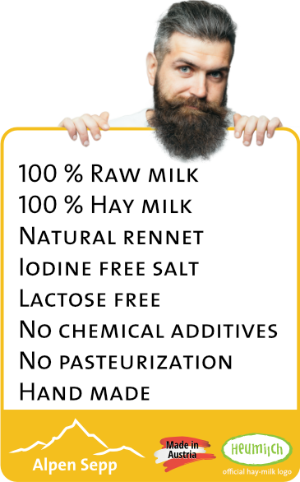 SNACK BOX – NORMAL SIZE – SAUSAGE & CHEESE VARIATION
Note cheese piece sizes:
Semi-hard cheese approx. 200 g
MountainThe Vorarlberger Bergkäse (mountain cheese) is a regional cheese specialty from the Austrian province Vorarlberg. » More info (alpine) cheese approx. 300 g
This snack box is a hearty bread meal where different types of raw/hard sausage and cheese are served with side dishes on a wooden board. In AustriaSince 2004, ARGE Heumilch Österreich has been bringing together around 8,000 hay-milk farmers and more than 60 dairies. » More info, this dish is particularly popular with wine taverns and wine yards, but also in our Austrian mountain huts and alpine dairymen's huts.
Alpine snack on rustic wooden board – with smoked raw / hard sausage specialities
Due to the many customer inquiries, the basic ingredients – our hay milkHay milk comes from cows that are fed exclusively with fresh grassland feed, hay and little grain. » More info varieties and sausage varieties – are now available for your private premiumHere in Austria, we call our fresh, natural milk for our cheese production hay milk (hay mild standard) - in Germany it is different. » More info snack plate. All you have to do is add or garnish the supplementary side dishes such as cucumbers, onions, horseradish, spreads and more. There are no limits to your creativity.
You can inspire your family or your guests with the best delicacies from our alpine Austrian alps region in just a few simple steps.
Additional details to the snack plate – normal size
Cheese – sausage composition for your normal snack box
The box contains the following cheese and sausage varieties and is also ideal for giving away to good friends:
Proper storage of high quality cheese
If you want to storeThe alpine cheese is best located in a cellar with high humidity. » More info large pieces or a whole cheese wheel more than 2-3 weeks, we recommend the use of a tea towel. To do this, take a clean tea towel, soak it in salted water (just add a little salt), squeeze it out and wrap the cheese with the damp cloth. Ideally, this process is repeated every 2-3 days.
If the cheese turns white or stains it is usually the salt or proteinCasein is a constituent of the protein (protein) of cow's milk, which is obtained for cheese production. » More info that crystallizes due to the temperature difference. These places are easy to rub off.
The use of aluminum foil is possible (but we advise against it) if it is supplemented with many small holesThe large round holes (round holes, fermentation holes) are caused by fermentation gases of bacteria (for example, the propionic acid bacteria in Emmentaler, etc.). » More info because of the air supply.