Often asked: "Is your cheese really freshly cut from the wheel?"
And indeed, we are happy to answer this question with a clear answer: "Yes, we will cut your cheese pieces order every Monday fresh from the cheese wheel from our cheese cellar

The alpine cheese is best located in a cellar with high humidity.."
Our fresh cheese cut from the alpine dairy cellar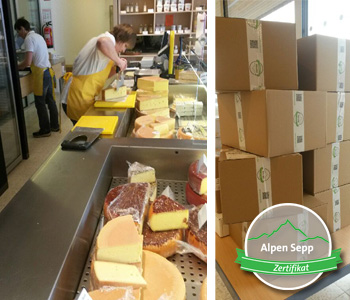 What it looks like in our alpine dairy when we cut the cheese orders of our customers to size, vacuum and pack them you can see on the following picture.
Why are we doing this?
A piece freshly cut from the cheese wheel, which comes from the ripening cellar, is unique in taste.
The cheese is full in "juice" and therefore has a wonderfully creamy dough

Detecting cheese defects and quality - on the cheese dough. Recognizing cheese defects requires some practice. consistency. This is possible thanks to the daily care of the rind

To protect the cheese wheel, it is put into salt bath or turned into dry salt. The salt removes water from the cheese and it dries faster. So the rind is formed. with iodine free salt water, as well as perfect room climate – humidity and temperature.
Once packaged or by lying in the sales counter for a long time, the cheese starts to dry

The dry matter refers to that portion of the cheese that remains after removal of the water contained. The more water is removed from the cheese, the lower its dry matter and vice versa. and loses exactly these taste characteristics.
Surprise yourself with culinary delights – EVERY MONTH anew
HARD CHEESE

The Vorarlberger Bergkäse (mountain cheese) is a regional cheese specialty from the Austrian province Vorarlberg.