Hay milk is fashionable – what is so special about hay milk?
We are currently experiencing a real consumer boom in hay milkHay milk comes from cows that are fed exclusively with fresh grassland feed, hay and little grain. » More info dairy products. If the milkCheese milk is the milk intended for the production of cheese, also with the concomitant use of buttermilk products, cream products, sweet whey, sour whey and whey cream (whey cream) » More info or milk product consists exclusively of hay-milk, this is now very clearly marked on the packaging of hay-milk products.
There are now many foods that are made with pure hay-milk: Butter, cheese, whipped cream, fruit yoghurt, even chocolate.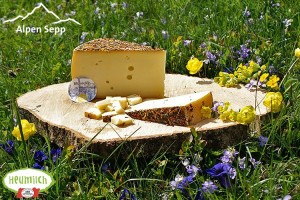 The labelling of hay milk products also has its good reason
Answering the why is very simple. Hay milk and hay milk products are much healthier. Detailed information on hay milk and health HERE
Within the EU, only 3% of farmers are engaged in hay-milk production
Within AustriaSince 2004, ARGE Heumilch Österreich has been bringing together around 8,000 hay-milk farmers and more than 60 dairies. » More info, only 15% of farmers are engaged in hay-milk farming – mainly in mountain areas.
Hay milk is rightly described as the purest enjoyment. The production of hay milk is the most original form of milk production. It is the only way to produce milk in such a naturalHere in Austria, we call our fresh, natural milk for our cheese production hay milk (hay mild standard) - in Germany it is different. » More info and traditional way.
Your benefit with hay milk products:
Pure nature
More variety – more taste
A first-class raw material
Good for body and soul
Historical background: For many centuries the feeding of dairy cows has been adapted to the four seasons. In summer the cows come to the Alps, eat fresh grasses and herbs and thus prevent the forest from growing over. In the meantime the meadows in the valley are mowed, the grass is dried and stored in barns for the cold season.
Natural hay or meadow grass as fodder for dairy cows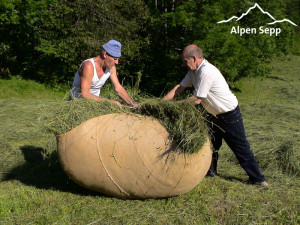 Hay is a natural, herb-rich feed for dairy cows. The result is healthy cows with healthy, safe milk. Furthermore, the life expectancy of cows fed exclusively on hay is many times higher than that of cows fed silageHealthy hay milk comes from cows that are fed exclusively on fresh grassland feed, hay and grain.  » More info.
Hay drying as an alternative to silo production
The reason why many farmers use silage instead of hay is simple. Silage is largely weather-independent and can be produced in large quantities and in a short time.
---
Our hay milk cheeses in Alpensepp cheese shop