Where we live. First impressions from above – Vorarlberg and the Bregenzerwald
To travel once through the Bregenzerwald / AustriaSince 2004, ARGE Heumilch Österreich has been bringing together around 8,000 hay-milk farmers and more than 60 dairies. » More info first of all means to overcome some heights and to experience a valley of contrasts, borders and transitions.
This is best done from Bregenz or Dornbirn. Following the road, narrow valleys and flat depressions alternate – far between the hills of the foothills of the Alps around Alberschwende and Lingenau. Then it gets narrower between the mountains of the foothills of the Alps around Andelsbuch and Bezau, squeezed between the high alpine peaks of Kanisfluh, Diedamskopf, Zitterklapfen and Widderstein around Schnepfau, Au, Schoppernau, Warth and Schröcken.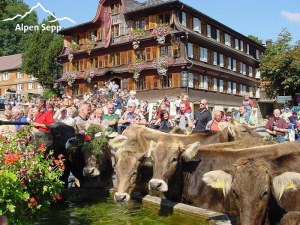 The alpine village or the place where our cheese is freshly produced daily in our alpine dairy is called Bezau. The popular holiday resort of Bezau is primarily surrounded by the following places (from which our alpine milkCheese milk is the milk intended for the production of cheese, also with the concomitant use of buttermilk products, cream products, sweet whey, sour whey and whey cream (whey cream) » More info comes).
Municipalities in our near surroundings of Bezau
Bregenzerwald citizens are regarded as self-confident, almost idiosyncratic. That has to do with their history. The valley between Lake Constance and Arlberg, once completely covered by forest, belonged to the Counts of Bregenz. From Bregenz the "forest" was settled around the year 1000.
The Bregenzerwald farmers developed a strong sense of togetherness early on. The political structure of Vorarlberg – after 1380 a Habsburg country with extensive popular rights – allowed the "peasant republic" Bregenzerwald to form. A peasant republic with its own free rural community, its own constitution (custom of the country) and jurisdiction. The Landammann was appointed in free choice, his town hall stood on the Bezegg between Bezau and Andelsbuch. Today a stone column reminds of the former town hall.
Just get to know us on a holiday trip. Discover with the Bregenzerwald a vacation area with many facets (hotels, SPA, gourmet and pleasure trips, etc.) and many leisure offers (hiking, climbing, skiing, etc.) at all 4 seasons.
Below we have compiled three videos for you to give you a first impression of our alpine landscape.
Small Bregenzerwald village communities are what make us special
The tourist and recreational region of Vorarlberg
Vorarlberg and the Bregenzerwald with its ski areas – also very popular in winter
Excerpt of our customers' favourite products
HARD CHEESE
The Vorarlberger Bergkäse (mountain cheese) is a regional cheese specialty from the Austrian province Vorarlberg. » More info