Mountain cheese 2 kg test offer: Traditional hand-scooping technique in the alpine dairy Rehmen – Au
Report on the dairy Rehmen click HERE
Test now the special cheese offer of getting to know master cheesmaker Hermann Berchtold alpine cheese. Cheese weight: 2 kg mountain cheese mild and spicy. Or ordered individually, quickly with 300 grams each – 4 months mild or 12 months spicy ripened mountain cheese.
HARD CHEESE
The Vorarlberger Bergkäse (mountain cheese) is a regional cheese specialty from the Austrian province Vorarlberg. » More info
TRADITIONAL MOUNTAIN CHEESE PRODUCTION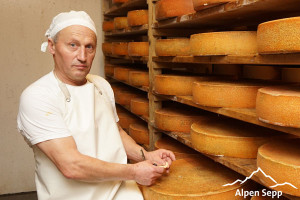 Hermann Berchtolds alpine cheese bears his own signature. It is made exclusively by hand, as was generally the case in earlier times. However, the experienced alpine dairyman does this voluntarily.
The alpine dairyman is much more strenuous in this way, but it is associated with feeling, tasting and grasping. The fact that working with all the senses has an effect on the qualityDetecting cheese defects and quality - on the cheese dough. Recognizing cheese defects requires some practice. » More info is proven not only by the cheese gold medals, but also by the lively demand. "Our cheese can be found in selected exquisite speciality dealers in Europe."
"We don't want tradition to die," Berchtold explains. In this way, alpine dairying is much more strenuous, but: "I really do sen for it here. I can feel, taste, grasp. It's a completely different feeling, as if the cheese is just pumped out," says the Schwarzenberger, who has been working as a dairymaid for 20 years.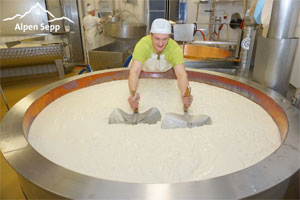 In contrast to the machine, it can produce less cheese in the same time. So is his cheese more expensive? "At any rate, it's not cheaper," says Berchtold. "But many people appreciate the way we work and are prepared to pay a little more."
Mountain cheeses (Alpine cheese) mild and spicy of the alpine dairy Rehmen