RACLETTE cheese spicy No.1 and No.2, spicy and extra spicy. Cheese wheels for the raclette grill and raclette oven – for your raclette party
Highest spicy RACLETTE enjoyment for the raclette grill or raclette oven in Swiss style. Raclette is one of the most exquisite dishes with cheese. The preparation of raclette using a raclette grill is the king's league and requires half a wheel of cheese. With this cheese wheels you get the highest alps cheese quality

Detecting cheese defects and quality - on the cheese dough. Recognizing cheese defects requires some practice. from 100% hay milk

Hay milk comes from cows that are fed exclusively with fresh grassland feed, hay and little grain. – especially for your raclette grill.
Our specially produced cheeses for raclette machines are:
Raclette cheese wheel between 6,5 cm and 7,5 cm thick
Ideal for raclette grills and raclette ovens
3 months or 4 months matured
100% hay

Here in Austria, we call our fresh, natural milk for our cheese production hay milk (hay mild standard) - in Germany it is different.

milk

Cheese milk is the milk intended for the production of cheese, also with the concomitant use of buttermilk products, cream products, sweet whey, sour whey and whey cream (whey cream)

from the Bregenzerwald Alpine

The Vorarlberger Bergkäse (mountain cheese) is a regional cheese specialty from the Austrian province Vorarlberg.

region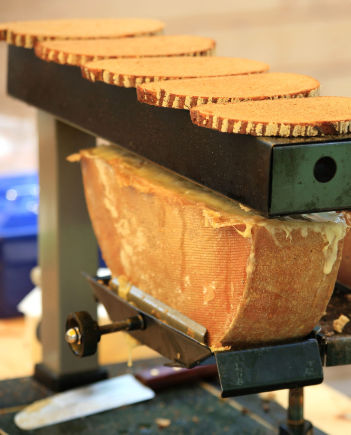 By the beginning of autumn at the latest, the classic raclette bread will have reached the top of the wish list for delicious food at Advent and Christmas markets.
The pleasure variant with the raclette grill has a special role to play here. By the raclette grill the cheese becomes liquid and is ideal thereby to the benefit with the raclette bread. At the same time the raclette cheese is also grilled and receives an enjoyable brownish skin.
This combination cannot be described, this must be experienced. And the raclette dish depends crucially naturally on the raclette cheese quality.
Is there a party or celebration on the schedule? The Raclette grill creates a highlight for every palate!
Regardless of the other ingredients for the guests, Raclette just somehow always fits. Depending on how the raclette is to be enjoyed, we have two recommendations:
RACLETTE BREAD AS HAND-FOOD
Good classic black bread slices from the baker as well as onion rings and ground pepper or chilli are needed. Slide the liquid raclette cheese onto the bread slice and spread. Then spread onion rings on top and sprinkle with pepper or chilli. Ready.
Average raclette cheese requirement per person
The amount of cheese needed self-explanatory from the cheese enthusiasm and hunger of the guests. Our experience of the last years shows however that with Raclette with a cheese quantity of 150 to 200 gram per person can be counted. For a celebration with 8-10 persons a half Raclette cheese loaf is ideal therefore.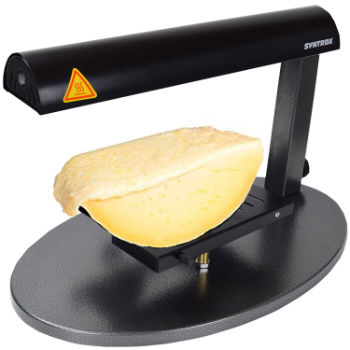 Good raclette grills and raclette oven on amazon.com
Raclette is only really fun when the right equipment is available – in this case the RACLETTE GRILL or RACLETTE oven. Even the short search on amazon brings numerous results of reasonable raclette grills. We always recommend to read the customer's comments on the individual raclette grills.
Or use regional electrical retailers for personal advice on the ideal raclette oven for you.
Raclette grill on amazon