World novelty: Test the first 8-edged REHMOCTA semi-hard cheese in the cheese shop
Discover and test a new cheese speciality from our alpine dairy "Rehmer Sennhus" which, thanks to manual care and handmade, traditional cheese production (unpasteurised cow's milk), produces wonderful cheese results.
Master cheesemaker Hermann Berchtold: "The most important raw material for the creation of the best cheese products is hay milk, which is further processed as thermised raw milk (not pasteurised)".
It took a long time and many trials were necessary until our dairyman Hermann Berchtold succeeded in turning his cheese idea of a completely new cheese wheel into reality.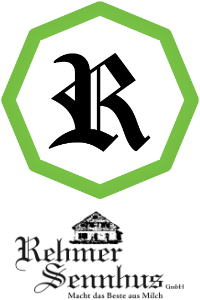 In addition to the focus on the characteristic cheese form, in handmade cheese forms made of the best fir wood, it was also very important to him to give the semi-hard cheese a completely new taste. This, along with other finer points in cheese production, is achieved by the completely new treatment of the cheese rind.
The cheese rind is not traditionally treated with salt and brine, but undergoes a different treatment. The subsequent ripening and treatment with the spice blends creates completely new and delicate taste combinations of cheese dough and spices.
Currently there are 2 different REHMOCTA cheeses whose names come from Bregenzerwald legends.
REHMOCTA »Ilga« – with tomato basil
REHMOCTA »Merboth« – with orange pepper
Further REHMOCTAS are in the experimental stage in Rehmen in Au.

The new REHMOCTA semi-hard cheese varieties in the cheese shop