… and then we found out about the VERY GOOD rating and comparison from netzsieger.de!
It is always these moments that show a project as special. Honest taste of nature from the Austrian alps, convenient and easy to order homeRipened cheese likes it cool and moist. The best is a temperature of about 8-10 ° C at about 90% humidity. » More info and then indulge in the moment of pleasure. And nothing else is our farmer & pleasure project, Wild game sausage and hay milkHay milk comes from cows that are fed exclusively with fresh grassland feed, hay and little grain. » More info cheese shop ALPEN SEPP.
In December 2016 netzsieger.de asked us if we would be willing to have our Alpen Sepp independently tested and evaluated. The main focus should be on the customer, the easy and safe shopping and the general impression of the onlineThe purchase of food and cheese via the Internet. A big and very interesting topic in this area will probably be the easy and quick access to specialties such as - for examle - cheese. » More info shop Alpen Sepp.
After following discussion in the team the decision was clear. Clearly, we wanted to know the weak points, we have so far nevertheless our benefit Shop always in such a way developed like we this gladly as a customer would have, we would go even shopping on www.alpensepp.com.
But do we think similarly and are the expectations of simple purchasing the same? Is there expectant joy for the customer when clicking on the AlpineThe Vorarlberger Bergkäse (mountain cheese) is a regional cheese specialty from the Austrian province Vorarlberg. » More info product?
Five crucial customer requirements should be tested!
ASSORTMENT
OPERATING COMFORT
DELIVERY
SECURITY AND PAYMENT
HELP AND SUPPORT
Jenny Gebel from netzsieger.de thus took it upon herself to explore Alpen Sepp as an "unsuspecting" customer. And their experience summarized them in an extremely informative public report on netzsieger.de.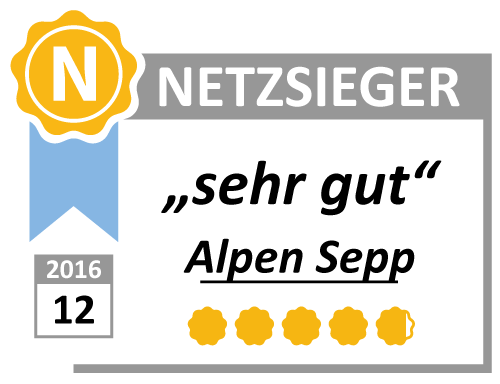 To our delight it turns out that our high expectations of the shopping experience in our shop coincided with the requirements of the customer.
Info on the evaluation with "VERY GOOD" at the beginning of 2017
We received the sensational info to the test result of netzsieger.de by e-mail on 02.01.2017. This test report of netzsieger.de and the whole feedback and references of our customers clearly show us the exquisite high qualityDetecting cheese defects and quality - on the cheese dough. Recognizing cheese defects requires some practice. » More info of food at the above all fair price (for customers as well as farmers) are much appreciated. Especially when clearly packaged in a casual online shop that is also easy to use.
… first of all I wish you a happy new year! And just as positively it goes on:

I am happy to inform you that our team has completed the single test of Alpen Sepp. Alpen Sepp scored 4.82 out of 5 possible points in the test. Thus you receive our award with the rating "very good".  The editorial staff has already set the test report to Netzsieger. At https://www.netzsieger.de/p/alpensepp you can have a detailed look at the test report.

Congratulations on this great test result! Enclosed I send you our test seal for the excellent performanceThe milk period is also called the lactation period. It is the time when farm animals such as cows, sheep or goats keep milk for milk production. » More info …
Also this year 2017 we will remain extremely active around the sensational culinary from our Alps. The assortment of cheese and game sausage will expand and change in the course of the year. There will be no boredom in culinary delights with guaranteed certainty – sensational ideas for the palates of our gourmet friends are waiting to be discovered in the coming months. If you have subscribed to our newsletter, you will always be informed.
Test result Alpen Sepp on netzsieger in detail
This is what our customers say