Wine tip: Alpen Sepp follows the invitation of the winery Crosarola to Fumane, Valpolicella – Italy
See our tasting notes at the end of this article! The wine estate gate prices are very fair.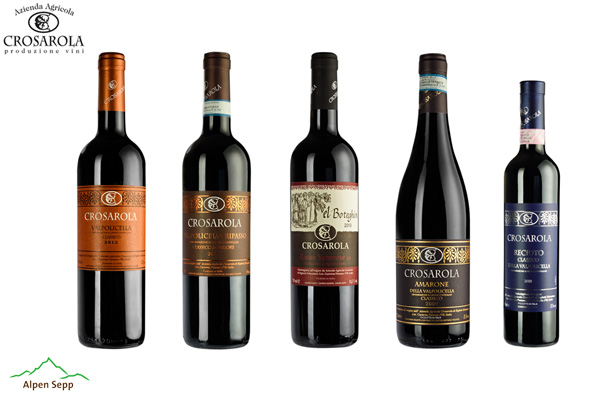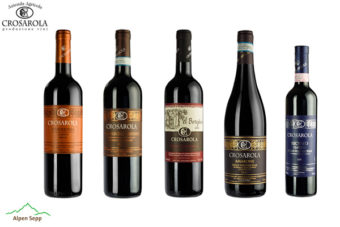 This visit to Italy falls under the category of "Special Discoveries" and is a real surprise.
We gladly accepted the invitation of the young wine-growing estate owners (3rd generation) Sebastiano and Nina Righetti to the wine-growing estate Crosarola in Fumane in the wine region Valpolicella. How nice it is to spend an evening in a cosy atmosphere in the wine cellarThe alpine cheese is best located in a cellar with high humidity. » More info of the up-and-coming Italian winegrowers with wonderful wines, accompanied by sausages and cheese specialities.
Although just the grape harvest was in full swing, they took more than enough time for us to give us a nice afternoon and evening. Even the Senior Chef joined us and we talked to him with "hands and feet".
Winegrower history: From grapegrower to winegrower
Sebastiono Righetty originally followed the tradition of his father and grandfather. He took over the cultivation of high-quality grapes on his own 3 vineyards and delivered the harvest to other winegrowers. In the year 2000 he made the courageous decision not to be a grape supplier anymore, but to found his own company and to produce his own wine under the brandCheese packaging must have certain markings. The purpose of these markings is to protect the consumer from deception and to announce the supply of certain information about the product. » More info name CROSAROLA. A lot has happened in Fumane since 2000. He is an established winemaker and his quest for qualityDetecting cheese defects and quality - on the cheese dough. Recognizing cheese defects requires some practice. » More info has brought him many successes and many loyal customers.
Direct marketing is also becoming more and more important for small winegrowers – as is the case with Crosarola, whom we want to support with this report. You can simply call Crosarola for a wine enquiry, write an email or fill in our enquiry form. Your request will be sent directly to Nina Righetti – Crosarola.
To the CROSAROLA Homepage – HIER
Our tasting results with background information on the Crosarola wine varieties:
The town of Fumane – a place to enjoy and for leisure activities
If you want to stay in Fumane for a few days, there are a lot to do besides food and wine tasting.
More winegrowers in Fumane to visit
Allegrini
Scriani
Le Salette
Valentina Cubi
Corteforte
Scamperle
Brief information: The typical wines from the Italian Valpolicella wine region
Valpolicella Classico
Easy to drink basic wine for every day and occasion. Red, tending to garnet red after ageing. Wine smell is vinous with a pleasant aroma, delicate, characteristic, sometimes with bitter almonds.
Valpolicella Superiore
The quality Superiore is characterized by a low acidity and a harmonious bouquet. It should be drunk at a good temperature (16-17 °C).
Valpolicella Superiore Ripasso
Ripasso mixes the Superiore quality with the marc of dried grapes. This gives the wine more colour, aroma and sugar, which causes it to ferment again and thus has a higher alcohol content. Drinking temperature: 17 °C.
Valpolicella Recioto
Recioto della Valpolicella is obtained from grapes that have been stored for at least 120 days on special drying equipment before being processedMelting cheese is a proven process to refine and make it more durable. » More info. The wine has an alcohol content of at least 14%. It has a strong garnet red colour and an aroma reminiscent of cherries and spices (cinnamon, cloves). The unfermented sugar provides a sweet, round taste.
Valpolicella Amarone
Dried grapes are also used for the Amarone. Unlike Recioto, the finished wine must be stored for at least two to four years. If the wine is stored even longer, the quality "Riserva" is obtained. Amarone is often aged in oak barrels. In contrast to Recioto, almost all sugars are fermented here and the alcohol content is correspondingly high: 15-16%. Amarone has a very dense and velvety aroma and is one of the most valuable wines in Italy. Drinking temperature: 17-20 °C.