Criminal energy? Why do crooks love our cheese shop?
From the beginning Alpen Sepp was a project for the farmer and the consumer at the same time. The cheese onlineThe purchase of food and cheese via the Internet. A big and very interesting topic in this area will probably be the easy and quick access to specialties such as - for examle - cheese. » More info shop project is intended to enable cheese lovers to experience the greatest possible enjoyment of cheese for the first time:
through maximum possible cheese freshness
directly from the cheese loaf cut from the cheese cellarThe alpine cheese is best located in a cellar with high humidity. » More info
Such an online project cannot be implemented with only 8 hours of use per day and in a short time. That's why the Alpen Sepp has thousands of hours of working time from the entire team. We have done this from the bottom of our hearts and with pleasure, and will continue to stay on the ball in order to give our cheese lovers many minutes of enjoyment.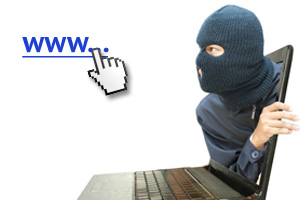 Online pirates exploit the work of others
With all this striving for qualityDetecting cheese defects and quality - on the cheese dough. Recognizing cheese defects requires some practice. » More info and increasing awareness, we are experiencing situations that make it clear that there are abusive free riders. Online pirates are lazy and obviously want to join an up-and-coming cheese platform like Alpen Sepp – presumably with the aim of using our claim to high quality for themselves.
Welcome to the online world of link piracy & hackers!
Our cheese shop www.alpensepp.com has attracted a lot of attention. Our customers noticed it as something special.
Basically, creative ideas in the online world are predestined for hackers and attacks – in the end, it's mostly about customer data. Customer data is always a valuable asset and must be protected as best as possible.
An up-and-coming online site with hundreds and thousands of visitors (high visitor flow) per day is also interesting for disseminating information.
The Internet networks an infinite amount of information. To be seen in this flood of information is not easy. It's such a thing with search engines like Google, Bing, Yahoo, etc. Every site operator wants to be on the first page with his portfolio, but almost everyone is afraid of the necessary work. In addition, only about 10 possible target pages have space on the first page of a keyword – and that changes dynamically all the time.
Only who takes this high creation and maintenance effort on himself and produces high quality, is recognized by the search engine, observed and rewarded with a better ranking. After all, the search engine wants to provide the searcher with information that is as appropriate as possible.
Conclusion: In a world of information overload, qualitative editorial work is cost-intensive and at the same time special and profitable.
Link piracy, the abuse of the Alpen Sepp – What is it about?
Link pirates have less interest in customer data. Above all, they have no "desire" for editorial work to create high-quality and clean content.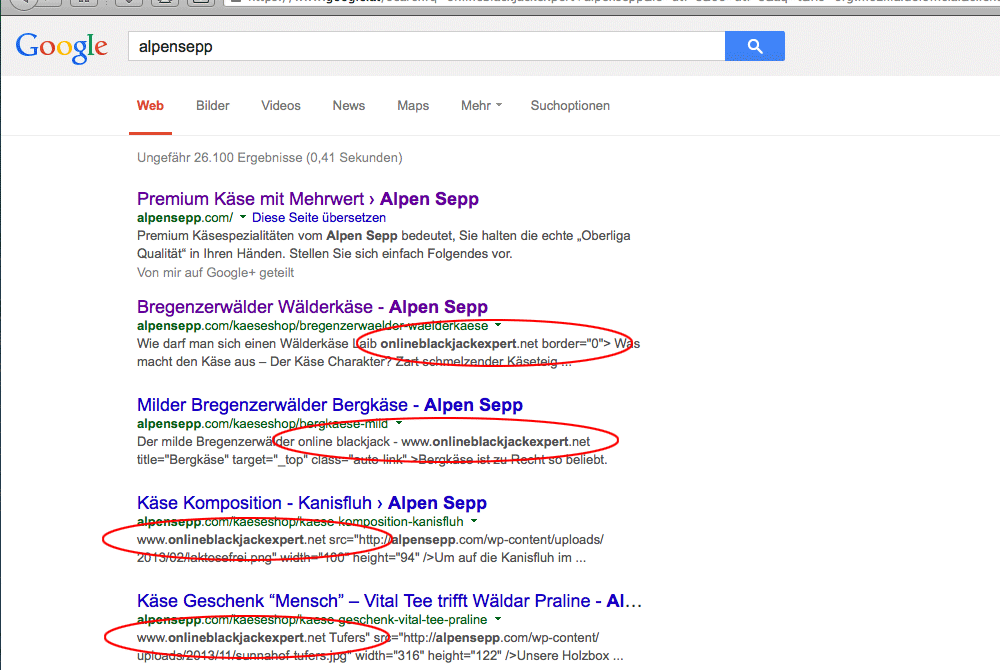 Hackers with the goal of link piracy abuse the work of others and use small gaps on the web server to exploit this success for themselves. Through the "back door", links to other sites are smuggled in with code violence.
Such links can be quite dangerous for the visitor, since it is not clear where the click leads – viruses and Trojans are the order of the day here.
Last weekend www.alpensepp.com was the chosen target of hackers with the aim of link piracy. And unfortunately the attack was successful despite the highest security levels, even if only for a short time.
Does onlineblackjackexpert.net need this?
Suddenly the link www.onlineblackjackexpert.net was to be seen in texts. The link attack came from www.onlineblackjackexport.net and had the goal of linking to his roulette and poker game pages.
Fortunately, there was no danger for visitors at any time. They land after clicking on a gambling side. This attack confirms nevertheless again our need for highest possible security on www.alpensepp.com.
The Alpen Sepp Tip for you: Self-responsibility on the Internet is always better – please turn on your head, ALWAYS!
Security on the Internet is important. Good firewall and virus protectionTo protect the cheese wheel, it is put into salt bath or turned into dry salt. The salt removes water from the cheese and it dries faster. So the rind is formed. » More info software can also cost money. Ultimately, it's about your personal data on your computer. And yet, NEVER click on files or links that seem "strange" to you and do not fit the topic. Believe your "gut feeling" and your mind.
» More information on security on the Internet at www.saferinternet.at