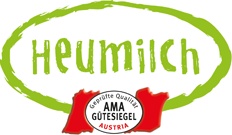 The working group Hey MilkCheese milk is the milk intended for the production of cheese, also with the concomitant use of buttermilk products, cream products, sweet whey, sour whey and whey cream (whey cream) » More info Austria – ARGE HeumilchSince 2004, ARGE Heumilch Österreich has been bringing together around 8,000 hay-milk farmers and more than 60 dairies. » More info Österreich
Source: www.heumilch.at
Since 2004, ARGE Heumilch Österreich has been bringing together around 8,000 hay-milk farmers and more than 60 dairies. The main production areas of hay milkHay milk comes from cows that are fed exclusively with fresh grassland feed, hay and little grain. » More info are Vorarlberg, Tyrol, Salzburg and Styria.
The working group members annually deliver a total of 420,000,000 kg of fresh hay milk. This corresponds to around 15 percent of the total milk delivered in Austria. Across Europe, the share of hay milk in the total milk content is only 3 percent.
The ARGE Hay Milk is the number 1 in the production and marketing of hay milk. The purpose of this project is to:
Preservation of silage-freeHealthy hay milk comes from cows that are fed exclusively on fresh grassland feed, hay and grain.  » More info cultivation
Support for hay milk farmers, processors and marketers
Increase of added value for all partners
Securing jobs
Production of high qualityDetecting cheese defects and quality - on the cheese dough. Recognizing cheese defects requires some practice. » More info products
Hay Milk – The milk with the many benefits
Hay milk means pure nature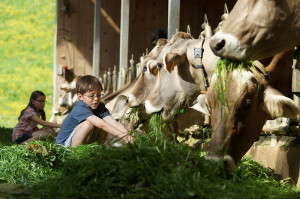 The production of hay milk is the most original form of milk production. She is adapted to the course of the four seasons. Dairy cows spend the summer on the local pastures and mountainThe Vorarlberger Bergkäse (mountain cheese) is a regional cheese specialty from the Austrian province Vorarlberg. » More info pastures. There they can enjoy, in addition to fre
sh air and clear water, plenty of juicy Alpine herbs and grasses. And later in winter they are also offered top quality food. Sun-dried hay and mineral-rich cereal meal – nothing else.
Here is a very strict and controlled rule in hay milk: feed from silage (such as fermented grass or fermented corn) is guaranteed not in the feeding trough! The particularly gentle and extensive farming of hay milk farmers also has a positive effect on nature. It contributes significantly to protecting the environment and preserving biodiversity.
Hay milk means: more variety & more taste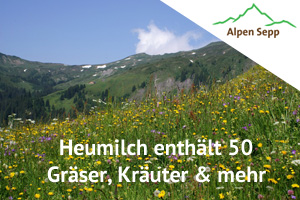 Hay milk, very rich and special
Especially important for the high milk quality and the taste of hay milk is the great plant wealth. Almost 1,000 grasses and herb plants grow on the various meadows, pastures and mountain pastures in Austria. These green areas are a true gourmet paradise for the hay milk cows and provide the special basis for the high quality hay milk.
Examples include meadow foxtail, meadow fescue, meadow grass, white clover, cocksfoot, redAerobic cheese ripening means cheese ripening with oxygen. » More info clover, fencing, ribwort or dandelion, just to name a few. The nature provides a really varied diet. This not only tastes the hay milk cows, because the higher the species richness, the higher the flavor and quality of raw milkThe cheese is made from fresh milk, which was not treated at the beginning of the cheese making process (raw milk). It is almost as it comes from the cow's udder. » More info for other products.
Hay milk – a first-class raw material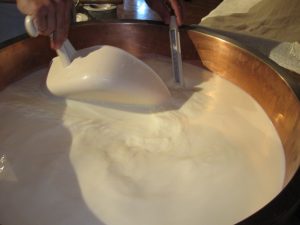 Thanks to the naturalHere in Austria, we call our fresh, natural milk for our cheese production hay milk (hay mild standard) - in Germany it is different. » More info feeding of the cows during the course of the year with fresh grasses and herbs in the summer and sun-dried hay in the winter, a very high quality is achieved in the milk production. This high-quality raw material is processedMelting cheese is a proven process to refine and make it more durable. » More info into various, high-quality dairy products and convinces with its excellent taste. Cheese masters therefore swear by hay milk.
Cheese can only be made without the addition of preservatives and intensive mechanical treatment if farmers consistently refrain from using fermented feed. In addition, the quality of raw milk is of particular importance for longer matured cheeses. Only a high-quality raw material can be used to produce high-quality cheese that is suitable for longer ripening (for example mountain cheese). Hay milk has this very property and is therefore the optimal raw material for many cheese specialties.
Hay Milk – good for body and soul
A study by the University of Natural Resources and Applied Life Sciences confirms that hay milk products are about twice as high in omega-3 fatty acids and conjugated linoleic acids (CLA) than normal, conventional dairy products. Omega 3 fatty acids are among the polyunsaturated fatty acids that our body can not produce itself.
Hay milk products should therefore be part of a nutritional plan as part of a balanced diet and a healthy lifestyle.
Back to the cheese encyclopedia