TRADITIONAL AUSTRIAN LANDHUNTER – LANDJÄGER – special cured smoked hard sausage specialty with square shape 
– Kantwurst type
In German language called Landjäger.
Landjäger (a special kind of Kantwurst) is an original Austrian dry sausage specialty, very unique through its characteristic square shape.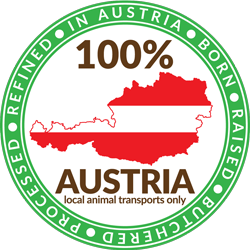 The hard sausage "Landjäger" impress with its special spicy taste. It is an ideal natural snack for in between!
The typical local hard sausage from the Austrian alps and alpine regions. The hard, square-shaped sausages are made from pork, beef and bacon. Landhunter (Landjäger) are short smoked and air-dried hard sausages, which are usually produced in pairs.
This specialty has always been popular with young and old. As a typical backpack sausage, landhunters are being eaten with or without bread or are eaten directly (without a knife) from the hand.
Our Landjäger sausages are made by our master sausage maker from high quality pork and beef, as well as selected spices and then brought into the practical, rectangular shape. He succeeds in creating an exciting handmade tasty and spicy sausage for every day.
During the maturation period, our Langjäger sausage lose up to 40% of their fresh weight (water reduction by drying).
Quadrangular Landjäger
Quadrangular pressed in natural gut Landjäger are a specialty from Southern Germany, Austria and Switzerland.
Landjäger international
Sometimes they are also called whip sticks, Bauraseufzer (farmer's sigh) or Unteruhlbacher (after Stuttgart-Uhlbach). In Alsace, Landjäger are called "gendarmes".
Landjäger recommendation
As a typical backpack sausage, landhunters with or without bread are eaten directly from the hand. In addition, a grilled landhunter on the campfire tastes wonderful.
Indulgence classification Landhunter – Landjäger
The peculiarity of the Landjäger is in its versatility.
Landjäger intensity (mild – spicy)
Landjäger consistency (soft – hard)
Landjäger shelf life (1 – 6 months)
at least 2 months shelf life