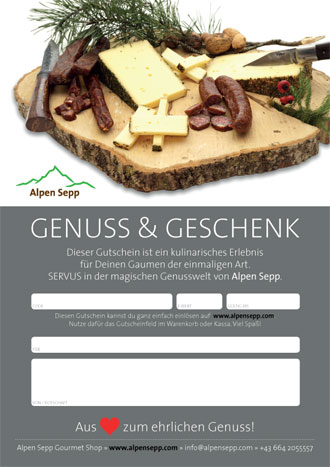 Gift vouchers for alps cheese, sausages & specials for enjoyment moments
With the variable gourmet coupons from Alpen Sepp you are always in the right place. Especially if it has to be quick!
Our vouchers are great if you want to give away culinary delights, but are not sure which cheese flavor / sausages the recipient (s) prefer.
Some love more the spicy cheese, others are looking forward to mild cheese enjoyment. In any case, one thing is certain: All our cheeses are of the highest qualityDetecting cheese defects and quality - on the cheese dough. Recognizing cheese defects requires some practice. » More info, lactose-free and thus the perfect surprise effect of the gift is guaranteed!
Can it be anything else to the cheese?
Our goal is the delights of all coupon recipients. The voucher can be ideally used for:
All kinds of alpineThe Vorarlberger Bergkäse (mountain cheese) is a regional cheese specialty from the Austrian province Vorarlberg. » More info cheeses, sausages, gourmet boxes, etc.
Ghee, which simply can not be missing in any kitchen for cooking and bakingDepending on the type of cheese, this cheese curd is then gently heated to 50-55 ° C in the copper kettle, so that the broken grain contracts further and loses even more whey, which is called "burning of the break ". » More info
Original dairy butter from 100% hey milkCheese milk is the milk intended for the production of cheese, also with the concomitant use of buttermilk products, cream products, sweet whey, sour whey and whey cream (whey cream) » More info
And that's how easy the coupon system works
The voucher is a Euro voucher in the form of a code that can be redeemed in the shopping cart or on the cashier side in the field "coupon code". The voucher is valid for 2 years from the day of the order and will be sent immediately after payment by e-mail.
Select voucher amount and place "add to cart".
Continue to checkout with "Checkout"
Fill out the address block and set "recipient details voucher" who should receive the coupon code. When shipping to someone else you can add a personal message.
Select desired form of payment and buyThe purchase of food and cheese via the Internet. A big and very interesting topic in this area will probably be the easy and quick access to specialties such as - for examle - cheese. » More info voucher. That's it!
With all payment methods the voucher dispatch takes place immediately with the exception of the "payment via advance payment / transfer". Sending takes place after receive of payment. The coupon purchase with "purchase on invoice" is not possible.
Example of a voucher code for the Alpen Sepp cheese shop