ARTISANAL PEPPER BITER, special smoked hard sausage with black pepper – 5 pairs
In german language called Pfefferbeisser (biter = beisser)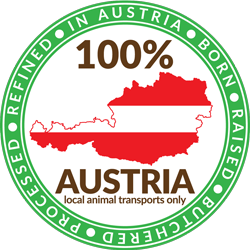 Pepper-biter can make you addicted. Discover a very tasty and spicy snack hard sausage – our pepper biter (Pfefferbeißer).
Our biter sausage products are elegant, spicy cured smoked hard sausages – made from the best qualityDetecting cheese defects and quality - on the cheese dough. Recognizing cheese defects requires some practice. » More info ingredients and naturalHere in Austria, we call our fresh, natural milk for our cheese production hay milk (hay mild standard) - in Germany it is different. » More info spices. The sausage stuffing (made from cured meat) is filled into long and small sausage casings (to create thin, practical sausage sticks) and carefully smoked and further matured. Our red deer– and spicy pepper biters makes your appetite for more and are always a treat – promised!
With the Pfefferbeisser you can enjoy a tipical snack specialty from our Austrian alps with a pleasant spiciness. The pepper sausages are made from beef and pork cuts from our region.
The snack sausage is popular with young and old. As a typical alpineThe Vorarlberger Bergkäse (mountain cheese) is a regional cheese specialty from the Austrian province Vorarlberg. » More info hicking snack, our pepperbiter are eaten with or without bread directly from the hand.
Pepper biter sausages are long storable without cooling. During the ripening periodThe milk period is also called the lactation period. It is the time when farm animals such as cows, sheep or goats keep milk for milk production. » More info, our pepper biter lose about 20% of their fresh weight.
Pfefferbeisser
Pepper biter are formed into thin sausage sticks cases and carefully smoked and matured.
Sausage character
Pepper biter are long lasting and become harder by air drying and get thereby a special note.
Sausage recommendation
As a typical backpack sausage they are eaten with or without bread directly from the hand.
Indulgence classification Pepper-biter
The peculiarity of the Pfefferbeisser lies in its versatility and the special peppery taste.
Pepper biter intensity (mild – spicy)
Pepper biter consistency (soft – hard)
Pepper biter shelf life (1 – 6 months)
at least 2 months shelf life