Our FIRST participation with 2 Rehmer alpine cheeses "mild and spicy" – at the International Cheese World Cup 2018 in the USA. And where does the winner come from?
In detail, there were participants from 26 countries of the world and 32 USA states with a total of 3,402 cheese and dairy products (all in all – whole block of cheese, cheese loaf, etc.) that faced the competition.
Immediately beforehand – a hard sheep's cheese from France wins the 2018 Cheese World Cup in the USA – and it comes to tenths points. We congratulate to it!
Yes, we can! – we just thought, when we heard about it! True to our motto "Nothing in the world is as powerful as an idea whose time has come", 2 Rehmer alpine cheese wheels (4 months and 12 months) sent from our Rehmer Sennhus cheese cellarThe alpine cheese is best located in a cellar with high humidity. » More info in Au to the World Championship in Wisconsin in the USA.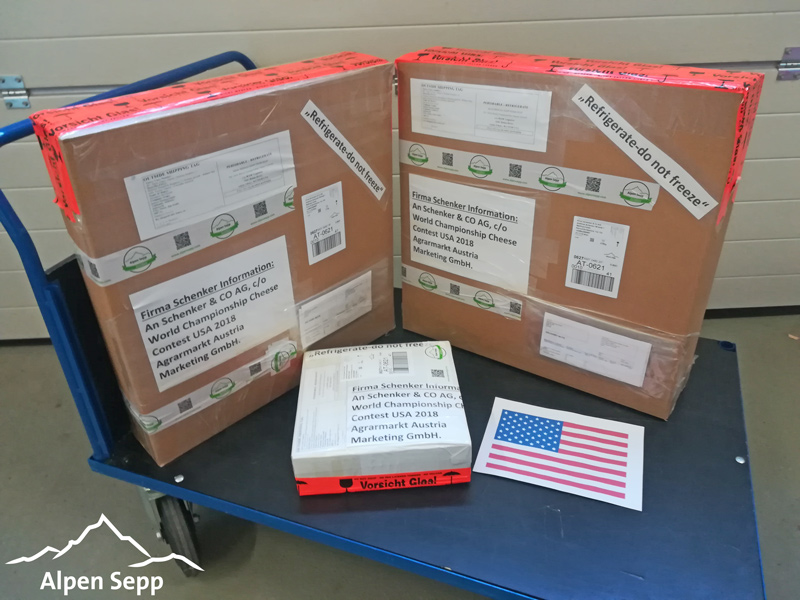 Our submitted Rehmer Sennhus Bergkäse, our uncertainty and the results
Our cheese wheels are Rehmer Bergkäse 4 months – mild and Rehmer Bergkäse 12 months – spicy.
These were packed very well by us and prepared for the long journey to the USA. Nevertheless, there were uncertainties for us:
Will the cheese wheel survive the long journey unscathed? – A mountain cheese loaf has about 24 kg
It will take about 1 month to evaluate the cheese wheels – during this time the cheese can no longer be cared for by us – what effect will cheese qualityDetecting cheese defects and quality - on the cheese dough. Recognizing cheese defects requires some practice. » More info have on this?
Will the cheeses make it easy to import into the US?
Will we reach a score that we are looking forward to and we can be proud of?
For information: Each cheese is rated twice and the average is the score achieved.
The results and scoring of our first cheese world participation are:
We are very proud of this and sincerely congratulate our master cheesemaker Hermann Berchtold and his team.
Rehmer Alpine Hard CheeseThe Vorarlberger Bergkäse (mountain cheese) is a regional cheese specialty from the Austrian province Vorarlberg. » More info – 4 months
Rehmer Alpine Hard Cheese – 12 months
Why participate as a valley dairy at such a big cheese world championship?
This question is very easy to answer:
How or where else do you know where to stand with its cheese quality in international cheese quality comparison? And the cheese ratings are still far from homeRipened cheese likes it cool and moist. The best is a temperature of about 8-10 ° C at about 90% humidity. » More info on neutral ground with a review team of 55 members from around the world instead – what more do you want there?
One thing was clear to us. It is certainly much harder to get involved than at many smaller regional or national cheese awards events – especially because of the international, strong cheese competition. Of course, every competitor will only send their best cheese products on the long journey to the USA. If you do not produce top quality, it is wiser to leave your cheese at home.
What brings the cheese world championship participation?
Above all, it brings us one thing – a neutral cheese rating as feedback from absolute cheese professionals from around the world. Quite a perfect feedback on strengths and weaknesses to his submitted cheeses. Thanks to these excellent reviews, you can search for the small mistakes and make specific improvements to further cheese quality optimizations.
Something else brings such a successful cheese World Cup participation: You no longer have to constantly discuss his cheese quality – either it is good, or not. The results clearly show this.
How does participation in the cheese world championship work?
Unfortunately this is not as easy as with a local cheese award, e.g. Kasermandl or Käsekaiser etc. within the EU.
First of all, everything is only in English. Then you have to issue a food certificate (Health Certificate) for each World Championship cheese for the World Cup participation. Furthermore, one has to register or request an official FDA (Food and Drug Administration) number from the US. Without this official FDA number nothing goes through the US Customs. Thereafter, the necessary customs documents must be completed in conjunction with delivery notes. If you have it all, the World Cup participation cheese will go by airfreight to the United States – to Wisconsin
Who is the winner of the US cheese championship from France?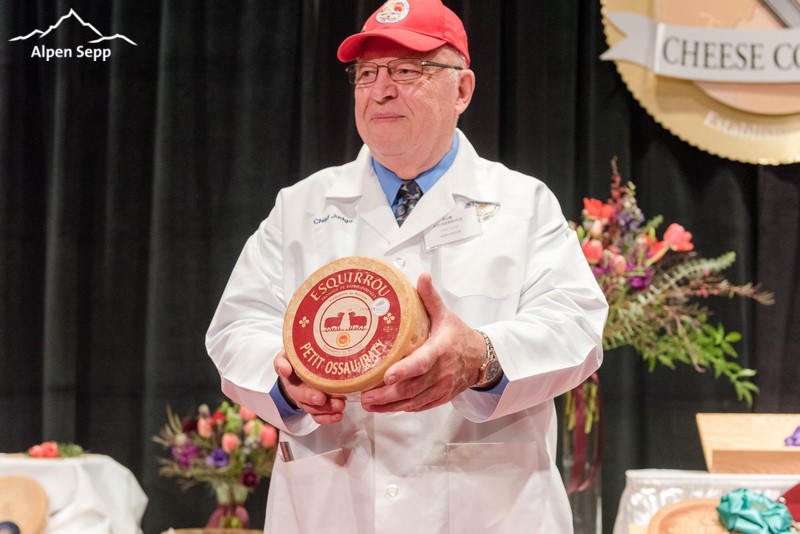 The winner of the entire top cheese, which was awarded with a record 3,402 cheese entries at this year's competition, is Esquirrou (pronounced ehs-keer-oo), a hard sheep's milkCheese milk is the milk intended for the production of cheese, also with the concomitant use of buttermilk products, cream products, sweet whey, sour whey and whey cream (whey cream) » More info cheese made by Michael Touyarou in the Mauleon Fromagerie in the Pyrénées region of France.
With the announcement of the jury, which described its taste as "nutty notes and roasted wheat flavor", the Esquirrou sheep's cheese scored 98,376 out of 100 points and was awarded best winner at the 2018 World Championship Cheese Contest at Monona Terrace. The winning cheese was selected from 20 finalists in the final.
World's Largest Cheese Spectacle at the 2018 World Championship Cheese Contest in Wisconsin
The competition, hosted by the Wisconsin Cheese Makers Association, is the world's largest cheese competition, with a record 3,402 entries this year, up 15 percent from the 2016 edition. The competition takes place every two years. which is about the US Cheese Championship at Green Bay. The contest includes 919 entries from 26 other countries and 32 US states.
The winners of each of the 121 categories of the competition were judged on Thursday morning, with the top 20 being selected by a team of 55 jurors. In the last 20 were seven cheeses from the US, including five from Wisconsin. It was Hollow Cheddar from Maple Leaf Cheese at Monroe, a cave aged chandoka made from cow and goat's milk from LaClare Family Creamery of Malone in Fond du Lac and a mild Gouda from Manitowoc, Cleveland.
Photo gallery of cheese world championship 2018 in the USA