Raw milk cheese – premium cheese from untreated, fresh milk
The cheese is made from fresh milk, which was not treated at the beginning of the cheese making process (raw milk). It is almost as it comes from the cow's udder.
When making raw milk cheeses, the milk is not pasteurized and heated to a maximum of 40 °C. This allows the naturally occurring microorganisms, which are so important for the flavoring and maturation of the cheese, to pass directly into the cheese dough. The cheese retains its natural milk flora.
Certain cheeses must be made with raw milk, other cheeses can be made with either raw milk. Raw milk cheeses are mostly cheeses which are subject to special requirements as products of protected origin (for example mountain cheeses).
Connection of raw milk and taste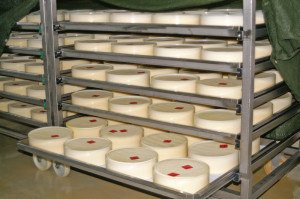 The untreated raw milk produces exceptional cheeses with a special taste. Many cheese connoisseurs put exactly this enjoyment advantage in raw milk cheese.
Due to the special production process, the raw milk cheese has an incomparable, mostly strong and intense taste. Furthermore, he remains very individual, because he also changed, depending on the season and maturity, again and again and again.
Quality of the milk and rapid processing
The basic requirement for a good raw milk cheese is milk of the highest quality – such as the alpine milk of the many small farmers in the Bregenzerwald.
The quality begins with the balanced feeding and welfare.
In the summer, the Bregenzerwald farmers make sure that the animals look for food on the herbaceous and, above all, unfertilized pastures. In winter there is hay (silage is prohibited).
Raw milk cheese is produced in the Bregenzerwald directly on the alpine dairies (the dairy cow lives there, so to speak) or in very nearby alpine dairies, since the milk must be processed very fresh and therefore no longer transport routes are possible.
Milk for raw milk cheese is analyzed daily for its quality. In addition, regular checks are carried out on farmers to monitor animal health.
Only when all of these requirements are met will a dairy be allowed to produce raw milk cheese.
Raw milk cheese labeling
Raw milk cheese must be labeled as such.
This is done by the note "made with raw milk". Other dairy products made from raw milk are also labeled. Pre-packaged cheese contains the raw milk reference in the label on the packaging. For cheese at the cheese counter is the reference to the signs.
Back to the cheese encyclopedia