For the sake of completeness – our performance or pitch in front of the investors in the 2 minutes 2 million show on Puls 4
The first impression counts, says an old proverb. There are basically 3 ways to learn something on the Internet: reading, listening and seeing. Tasting – unfortunately that is not possible.
But the wonderful thing about the Internet is the soundtrack of the moving image – the film.
By means of the recordings in the 2 minutes 2 million investors show of Puls 4 you can now see and observe in the project video "Alpen Sepp" our cheesemaklers Hermann and Christoph making cheese in the Rehmer Sennhus and learn more about our alpineThe Vorarlberger Bergkäse (mountain cheese) is a regional cheese specialty from the Austrian province Vorarlberg. » More info homeRipened cheese likes it cool and moist. The best is a temperature of about 8-10 ° C at about 90% humidity. » More info with background information and considerations or ideas for the alpine project. In addition, you will get to know us two – Dietmar and Stephan – better.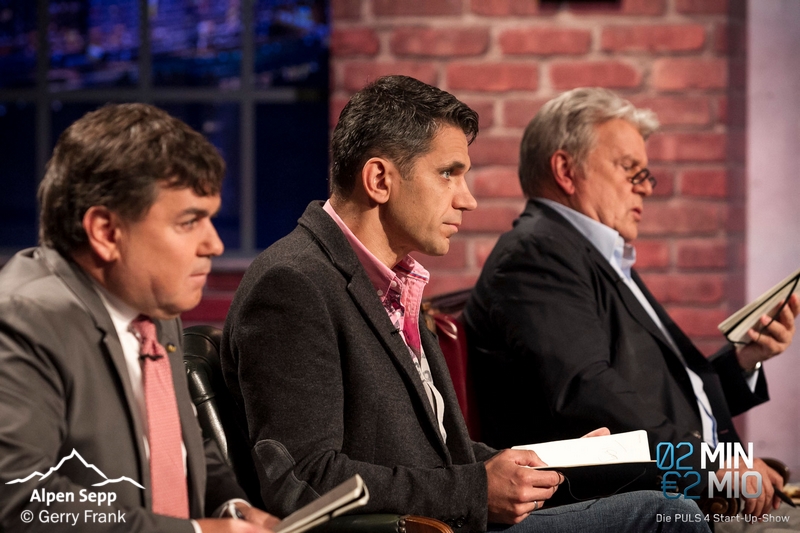 Experiencing Tension and Uncertainty with the 2M2M Pitch
Presenting an onlineThe purchase of food and cheese via the Internet. A big and very interesting topic in this area will probably be the easy and quick access to specialties such as - for examle - cheese. » More info start-up project to a successful jury is probably always associated with excitement and tension. You don't know which questions come up and which discussions are triggered.
Perhaps experienced entrepreneurs will "tear you apart" in the truest sense of the word. It was always clear to us that if the qualityDetecting cheese defects and quality - on the cheese dough. Recognizing cheese defects requires some practice. » More info of our Alpine products is not flawless, then we don't have to start with the project at all.
One can only win with this Start Up performance in the show
The decision to go to the show means to show oneself to a lot of people – and to get involved with criticism. The additional benefit "advertising value of this show" would presumably be to finance no start-up in monetary terms.
For an online shop project like "Alpen Sepp" this is an unbelievable chance to gain reach. Hundreds of thousands of people watch the presentation on TV simultaneously. And then comes the break – and the onslaught on the show begins – in our case this was even twice the case due to two advertising blocks.
Tips for other 2 minutes 2 million candidates in the future
Thus some homework must be done in the apron. The servers have to be changed to high performanceThe milk period is also called the lactation period. It is the time when farm animals such as cows, sheep or goats keep milk for milk production. » More info servers (Attention: calculate higher costs and coordinate with hosters) otherwise the server crashes at the running meter during ordering processes.
Prepare yourself for an extreme rush of orders. If the products meet with resonance and interest, not 100 or 200 orders will be received – but many hundreds or even thousands. In order not to disappoint the "customer fans", there should be enough products and packaging. Also important – dispatch / inform service providers (with us DPD)  – they come then with own truck – the packages completely fetch – so that nothing is lost.
Don't let new customers be disappointed and wait. Communication must work 24 hours a day on all channels (telephone, email, fb, chat). Nowadays people work at all times and go surfing – don't forget that. If there is a question when you decide to buy, it should be answered immediately.
Finally, we would like to thank all our existing and new customers very much. Without you and the willingness to get to know our food from the Alpine region through online ordering, testing and feedback, the direct marketing project "Alpen Sepp" Alpenkäse aus dem Senner-Käsekeller would not have worked.
Many thanks also for the many positive feedbacks to our appearance in the TV Show.
Best regards from the Austrian alpine world – your Alpen Sepp Team.
Video: Project Alpen Sepp introduces itself – the pitch leader
Video: The entire Alpen Sepp Pitch at the 2 Minutes 2 Million Show