The enzymes chymosin and pepsin
Enzymes are special proteins (biocatalysts) formed in living cells (lab) that accelerate the biochemical conversion of milk.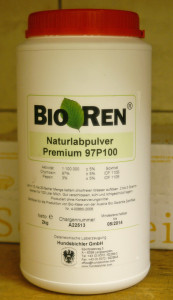 What is rennet anyway?
Animal rennet in powder for cheese production. Lab is, as already mentioned, a mixture of the enzymes chymosin and pepsin and is obtained from the abomasum of young ruminants. As a rule, it is rennet from calf.
While the animals are still in milk-drinking (nursing) age, enough enzymes are present in their stomachs. These are needed for splitting the milk protein casein. Because of this characteristic, the animal rennet is used in the production of cheese. The milk thickens with it, without getting sour.
The animal rennet is taken from the gastric mucosa of the fourth stomach of young calves and further processed.
Declaration of rennet
Rennet does not have to be declared in cheese production because it is not classified as a food additive on an international basis. It is a so-called production aid.
Therefore, many cheese packs contain no information about the contained rennet.
How high is the consumption of the rennet?
Around 35% of cheese production worldwide is made with natural rennet, which is a rennet made from calf stomachs.
Alternatives are used for the remaining 65%. These are herbal, as well as microbial rennet substitutes.
As the herbal alternatives change the taste of the cheese, microbial replacement is often used. Microbial alternatives include molds used to clot milk in cheese production.
Back to the cheese encyclopedia