The enzymes chymosin and pepsin
EnzymesRed smear is a surface threatment method used during cheese making and maturing. » More info are special proteins (biocatalysts) formed in living cells (lab) that accelerate the biochemical conversionThe F.D.M. value related to dry matter, also depending on the water content of the cheese. The higher the water content (the more watery the cheese) the less dry matter and the less fat the cheese contains. » More info of milkCheese milk is the milk intended for the production of cheese, also with the concomitant use of buttermilk products, cream products, sweet whey, sour whey and whey cream (whey cream) » More info.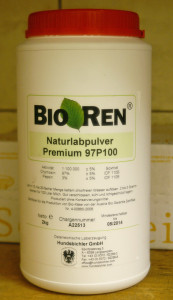 What is rennet anyway?
Animal rennetNatural rennet is a mixture of the enzymes chymosin and pepsin, which is obtained from the abomasum of young ruminants in milk-drinking age. » More info in powder for cheese production. Lab is, as already mentioned, a mixture of the enzymes chymosin and pepsin and is obtained from the abomasum of young ruminants. As a rule, it is rennet from calf.
While the animals are still in milk-drinking (nursing) age, enough enzymes are present in their stomachs. These are needed for splitting the milk proteinCasein is a constituent of the protein (protein) of cow's milk, which is obtained for cheese production. » More info casein. Because of this characteristic, the animal rennet is used in the production of cheese. The milk thickens with it, without getting sour.
The animal rennet is taken from the gastric mucosa of the fourth stomach of young calves and further processedMelting cheese is a proven process to refine and make it more durable. » More info.
Declaration of rennet
Rennet does not have to be declared in cheese production because it is not classified as a food additive on an international basis. It is a so-called production aid.
Therefore, many cheese packs contain no information about the contained rennet.
How high is the consumption of the rennet?
Around 35% of cheese production worldwide is made with naturalHere in Austria, we call our fresh, natural milk for our cheese production hay milk (hay mild standard) - in Germany it is different. » More info rennet, which is a rennet made from calf stomachs.
Alternatives are used for the remaining 65%. These are herbal, as well as microbial rennet substitutes.
As the herbal alternatives change the taste of the cheese, microbial replacement is often used. Microbial alternatives include molds used to clotThe milk is made to clot by adding rennet or lactic acid bacteria. The milk protein casein from the milk is felled - the basis for producing all sorts of cheese. » More info milk in cheese production.