ARTISAN WILD BOAR SALAMI – SPICY SAUSAGE – from Austrian region
In German called Wildschweinsalami.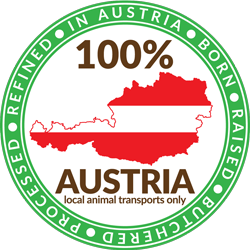 Our wild boar salami with at least 38% wild boar meat portion. Our master sausage maker succeeds with our wild boar salami a wonderful, mild & tasty sausage specialty.
This wild game salami is a cured, air dried sausage with medium grain size and selected spices. The maturation respectively fermentation periodThe milk period is also called the lactation period. It is the time when farm animals such as cows, sheep or goats keep milk for milk production. » More info is at least 1½ months.
The wild boar salami is composed of 53% controlled, lean and tender pork and 38% wild boar meat (venison) – additionally refined Jamaican rum.
The special feature of our wild boar salami: While often remaining meat is processedMelting cheese is a proven process to refine and make it more durable. » More info in the mass sausage production, in our artisanal wild boar salamis are also nobleMold cultures are aroma-forming noble molds that grow on the surface (white noble mold) or inside a cheese (blue and green mold). » More info meat parts processed.

With this salami specialty a Austrian handmade product was created, which is characterized by its wild-spicy taste.
Discover with this sausage a qualitatively extraordinary artisan product with good durability – suitable for all occasions and for all game food fans. Through noble spices and gentle smoking over beech wood the Wildschweinsalami gets its unmistakable taste.
The wild boar salami must not be missing in any backpack during mountainThe Vorarlberger Bergkäse (mountain cheese) is a regional cheese specialty from the Austrian province Vorarlberg. » More info hikes – particulary ideal for long hikes. It fits for special break plates and of course perfect as a complement to our various alpine mild cheeses.
Special tip: Just enrich your pizza with wild boar salami and create a special wild taste of your "wild pizza" creation.
Salami review – distinctive features of salami quality
A crucial qualityDetecting cheese defects and quality - on the cheese dough. Recognizing cheese defects requires some practice. » More info in salami production is how high the quality of the meat is. The more pure muscle meat and the fewer connective tissue-rich pieces of meat come into the salami sausage, the higher the quality.
The longer a salami can dry or ripen, the more intense its flavor and flavor. The drying and ripening time is usually recognized by the hardness of the sausage: the firmer, the longer it has been subjected to the ripening process. Another clue is the important indication of how much meat was used per 100 g of finished salami. The more meat is used, the more intense the salami taste.
The name Salami
Salami is a European cured sausage variety of pork and other meats.
Salami types
If the original salami recipes usually included meat from donkey or mule, today it is mostly pork and beef. For other meats, this is indicated in the name (for example, turkey salami and wild salami).
Salami recommendation
Just add wild boar salami on your home made pizza and enjoy the special taste of your "wild pizza" creation.
Enjoyment classification wild boar salami – Wildschweinsalami
The peculiarity of the wild boar salami is the pleasant, but not too intrusive wild taste.
Wild boar salami intensity (mild – spicy)
Wild boar salami consistency (soft – hard)
Wild boar salami shelf life (1 – 6 months)
at least 2 months shelf life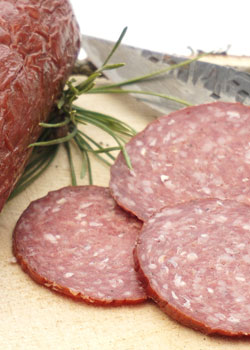 Interesting details about the game species – wild boar
Background information on the non-native wild game wild boar in Vorarlberg
The wild boar belongs to the family of Old World or Real Pigs of the order of the cloven-hoofed animals. Wild boars are omnivorous and very adaptable. Currently, their stock is currently increasing, especially due to the increased cultivation of corn.
The boar has a powerful, omnivorous bit with 44 teeth. The lower canines of the boar usually have a length of 20 cm, of which, however, rarely more than 10 cm protrude from the jaw. The maximum live weight of adult cattle in Central Europe is about 150 kg and that of adult boars about 200 kg.
Wild boars can cause significant damage to agricultural land. They dig up whole meadows in search of food. They are very intelligent and therefore difficult to hunt. Female pups can become sexually mature after 8 to 10 months.
Wild boar meat is fatter than deer or venison. Meat of young animals is excellent for stewing and roasting and remains very juicy. Wild boar meat has very aromatic meat.
Special facts about wild boar
Wild boars can even inhabit cities and is an "adaptation artist"
Reproduction can be adapted quickly and extremely effectively to different living conditions, especially the nutritional situation
No more enemies – predators rarely play a role here today
Wild boar is our only non-ruminant hoofed game species
Today's agriculture provides sows with plenty of milkCheese milk is the milk intended for the production of cheese, also with the concomitant use of buttermilk products, cream products, sweet whey, sour whey and whey cream (whey cream) » More info for months
The hunters have so far failed to manage the escalating stocks, because the hunting of the situation is not adapted and is hampered by modern agriculture