ARTISAN BEEF KAMINWURZEN SMOKED DRY SAUSAGE | SPICY TASTE | NON-PORK | 100% organic beef meat from Austrian alpine region
In German language called Bio Kaminwurzen (Kamin=chimney)
The "ORGANIC beef Kaminwurzen" (certified by Austria Bio Garantie GmbH) impresses with its special sausage recipe and the fact that it is produced without any flavor enhancers.
The cured dry beef sausage is to 100% made from Austrian organic beef – without any pork meat. Try it once to get this in the supermarket!
The peculiarity: Our master butcher succeeded here after many attempts to produce a wonderfully tasting beef Kaminwurzen speciality in organic qualityDetecting cheese defects and quality - on the cheese dough. Recognizing cheese defects requires some practice. » More info without any pork content, which is not dry at all.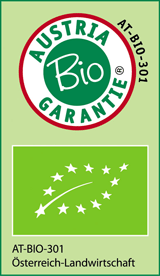 Our organic hard sausage from beef is a smoked, dry sausage with medium grain size and selected organic spices. It matures in the smokehouse to the right taste intensity and is stored in a controlled manner.
The Kaminwurzen are made from 155 g organic beef per 100 g ready to eat sausage after maturing process. The organic sausage is then preserved by cold smoking.
Traditional Kaminwurzen are a special delicacy in our alpineThe Vorarlberger Bergkäse (mountain cheese) is a regional cheese specialty from the Austrian province Vorarlberg. » More info Austrian world. As traditional backback proviant the Kaminwurzen is perfect for for hiking and mountaineering and much more – a true multitalent.
The name Kaminwurze
The name Kaminwurze comes from the original way of smoking by the fireplace.
Kaminwurz history
Kaminwurze is a cold-cured and air-cured raw sausage (originally from South Tyrol), made from beef and bacon backfat.
Kaminwurz recommendation
They are eaten cold, cut into pieces or thin slices and eaten with bread. Gamswurzen are long-lasting without cooling. An ideal food for hikers, hunters and mountaineers.
Enjoyment classification organic beef Kaminwurzen – smoked, cured dry sausage
The peculiarity of the organic Kaminwurzen is the long durability.
Kaminwurzen intensity (mild – spicy)
Kaminwurzen consistency (soft – hard)
Storage shelf life (1 – 6 months)
at least 2 months shelf life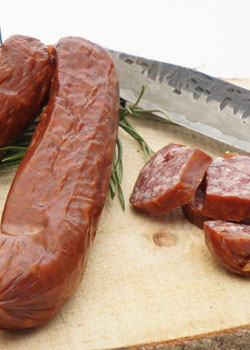 Interesting historical facts about the sausage Kaminwurz from South Tyrol
The Kaminwurz or Kaminwurze is a South Tyrolean, cold-cured and air-dried raw sausage made from beef and back fatThe dry matter refers to that portion of the cheese that remains after removal of the water contained. The more water is removed from the cheese, the lower its dry matter and vice versa. » More info from pork or just from pork. Occasionally you can also find smoked lamb sausages, goat or deer meat.
The name comes from the original type of smoking. In many houses there was a smokehouse in the chimney on the roof, in which the inhabitants had their smoked meat ripened as a supply.