SALAMI | ARTISANAL ROE DEER SALAMI – Austrian salami specialty from the alps
In German called Rehsalami.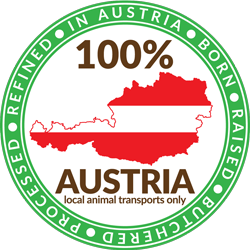 Our superb roe deer salami with at least 38% roe deer meat portion. Our master sausage master succeeds with our roe deer salami a wonderful, mild tasty sausage specialty from the Austrian alps.
This salami specialty is made from the best venison cuts from wild living game in our alps region.
Our deer salami is a cured, air dried sausage with medium grain size and selected spices. The maturation respectively fermentation periodThe milk period is also called the lactation period. It is the time when farm animals such as cows, sheep or goats keep milk for milk production. » More info is at least 1½ months.
It iss composed of 53% controlled, lean and tender pork and 38% deer meat (venison) – additionally refined with Jamaican rum.
The special feature of our roe deer salami: While often remaining meat is processedMelting cheese is a proven process to refine and make it more durable. » More info in the mass sausage production, in our deer salami are also nobleMold cultures are aroma-forming noble molds that grow on the surface (white noble mold) or inside a cheese (blue and green mold). » More info meat parts processed. With this salami specialty a Austrian alpine handmade product was created, which is characterized by its wild-spicy taste.
Discover with this Rehsalami a qualitatively extraordinary alpine product with very good durability – suitable for all occasions and for all wild game products fans. Through noble spices and gentle smoking over beech wood the Rehsalami gets its unmistakable taste.
The roe deer salami should not be missing in any backpack during mountainThe Vorarlberger Bergkäse (mountain cheese) is a regional cheese specialty from the Austrian province Vorarlberg. » More info hikes. It is ideal for long hikes, fits for special break plates and of course perfect as a complement to our various alpine cheeses.
Special tip: Just enrich your home made pizza with roe deer salami and create a special wild taste of your "wild pizza" creation..
Salami review – distinctive features of salami quality
A crucial qualityDetecting cheese defects and quality - on the cheese dough. Recognizing cheese defects requires some practice. » More info in salami production is how high the quality of the meat is. The more pure muscle meat and the fewer connective tissue-rich pieces of meat come into the salami sausage, the higher the quality.
The longer a salami can dry or ripen, the more intense its flavor and flavor. The drying and ripening time is usually recognized by the hardness of the sausage: the firmer, the longer it has been subjected to the ripening process. Another clue is the important indication of how much meat was used per 100g of finished salami. The more meat is used, the more intense the salami taste.
The name Salami
Salami is a European cured sausage variety of pork and other meats.
Salami types
If the original salami recipes usually included meat from donkey or mule, today it is mostly pork and beef. For other meats, this is indicated in the name (for example, turkey salami and wild salami).
Salami recommendation
Just add roe deer salami on your home made pizza and enjoy the special taste of your "wild pizza" creation.
Enjoyment classification roe deer salami – Rehsalami
The peculiarity of the roe deer salami is the pleasant, but not too intrusive wild taste.
Roe deer salami intensity (mild – spicy)
Roe deer salami consistency (soft – hard)
Roe deer salami shelf life (1 – 6 months)
at least 2 months shelf life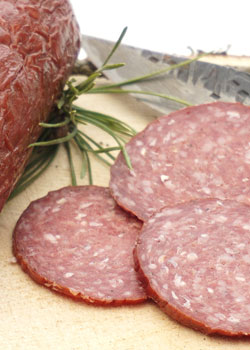 Interesting details about the wild lifing animal roe deer
The deer, also called European deer, is the most common and smallest species of deer in Europe.

The deer originally colonized forest edge zones and clearings and now also occurs in open, almost coverless agricultural steppe. Startled deer usually seek shelter in thickets with a few quick jumps. Deer are ruminants and are referred to as concentrate selectors (= selected grasses), as they prefer to eat protein-rich food.

Only the bucks wear an antler which is renewed annually. Interestingly, there is no evidence that bucks with stronger antlers are favored by the females.
The deer is a distinctly odor-oriented animal. A large proportion of the nasal mucosa is covered with an olfactory epithelium (olfactory mucous membrane). The side-facing eyes allow the deer to survey a wide radius without turning the head. A barking sound is the most conspicuous and often heard vocalization of the deer, which is referred to in the literature as a "fright." Adult bucks usually occupy real territories that are defended intolerably against intruders.
Special facts about roe deer
Venison is short-fibred, light reddish-brown meat and should have a slightly nutty odor when it is fresh.
Venison is one of the healthiest meats
It contains many B group vitamins, minerals and trace elements
Venison is characterized by its high iron content
Venison is lower in fat than the leg and has only 1.25 grams of fat per 100 grams.
Deer meat has a high proportion of high-quality proteinCasein is a constituent of the protein (protein) of cow's milk, which is obtained for cheese production. » More info, which can be optimally converted by the human body into the body's own protein.
On 100 grams of meat accounts for about 22 grams of protein. It is easy to digestPeople with lactose intolerance can not or only insufficiently digest milk sugar (lactose or lactose). » More info and low in cholesterol.