ARTISAN BEEF SALAMI | SPICY TASTE | NON-PORK | 100% organic beef meat from Austrian alpine region
Our master sausage maker succeeds with our non-pork organic beef salami a wonderful, not too dry, tasty salami specialty. It ripens in our alpine region to the correct cut resistance and is stored in a controlled manner.
Our organic salami (certified by Austria Bio Garantie GmbH) is a 100 % cattle cured dry sausage with medium grain size and selected organic spices. The maturation periodThe milk period is also called the lactation period. It is the time when farm animals such as cows, sheep or goats keep milk for milk production. » More info is at least 1½ months. Try to get such a sausage in the supermarket!
The salami special feature: Our master butcher has succeeded here after many attempts to produce a wonderfully tasting 100% beef salami specialty in organic qualityDetecting cheese defects and quality - on the cheese dough. Recognizing cheese defects requires some practice. » More info without any pork meat, which is not dry at all.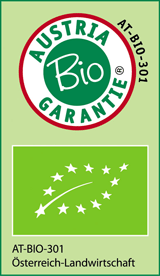 Our organic beef salami consists of 100% controlled, lean and tender Austrian organic beef.
The special thing the organic beef salami: While in the mass sausage production often remaining meat is processedMelting cheese is a proven process to refine and make it more durable. » More info, in our organic beef salami nobleMold cultures are aroma-forming noble molds that grow on the surface (white noble mold) or inside a cheese (blue and green mold). » More info beef meat parts processed.
Discover with this organic beef salami a high-quality handicraft sausage product with a long shelf life – suitable for all occasions and for all connoisseurs. Our beef salami must not be missing in any backpack.
It is ideal for long mountainThe Vorarlberger Bergkäse (mountain cheese) is a regional cheese specialty from the Austrian province Vorarlberg. » More info hikes, fits on Jausenplatten and of course fits perfectly as a complement to our cheeses.
Salami Evaluation – Salami Quality
A crucial quality in salami production is how high the quality of the meat is. The more pure muscle meat and the fewer connective tissue-rich pieces of meat come into the salami sausage, the higher the quality.
The longer a salami can dry or ripen, the more intense its flavor and flavor. The drying and ripening time is usually recognized by the strength of the sausage: the firmer, the longer it has been subjected to the ripening process. Another important clue is how much meat was used per 100 g of finished salami. The more meat is used, the more intense will be the salami taste.
The name Salami
Salami is a European cured sausage variety of pork and other meats.
Salami types
If the original salami recipes usually included meat from donkey or mule, today it is mostly pork and beef. For other meats, this is indicated in the name (for example, turkey salami and wild salami).
Smoked sausage recipe
Just add organic beef salami on your home made pizza and enjoy the special taste of your "pure beef salami pizza" creation.
Enjoyment classification organic beef salami – Rindersalami
The peculiarity of the organic beef salami is the 100% beef content in the meat portion.
Beef salami intensity (mild – spicy)
Beef salami consistency (soft – hard)
Beef salami shelf life (1 – 6 months)
at least 2 months shelf life