SPECIAL CHAMOIS SAUSAGE | HAND MADE TRADITIONAL AUSTRIAN ALPS GAMSWURZEN | special smoked dry chamois sausage specialty
Unique and rare game sausage from chamois!
You have to taste this sausage to believe how great it is… people that know it can't wait to eat it again.
The traditional hard (or dry) cured sausage "Gamswurzen" (a kind of Kaminwurzen) impress with its ingenious sausage recipe. Gamswurzen are an ideal naturalHere in Austria, we call our fresh, natural milk for our cheese production hay milk (hay mild standard) - in Germany it is different. » More info snack from wild game for in between!
Our Austrian chamois sausage is made in artisanal traditional way from lean chamois, beef and pork, refined with secret spice mixture. Finally filled in a natural gut and then smoked and air-dried for at least 20 days. 100 g of Gamswurzen contain 80 g of veal and 60 g of beef and pork.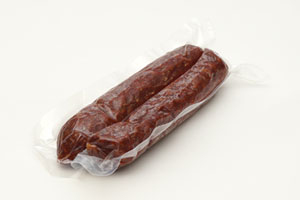 Our master sausage maker succeeds with our Gamswurzen an exciting, tasty game specialty for many occasions.
Our Gamswurzen hard sausage is a small smoked and dried sausage with "medium grain sizes" (in the sausage ground meat) and selected spices. It ripens in the smokehouse to the right taste intensity and is stored in a controlled manner.
Our smoked cured chamois sausages are made from 140 g (per 100 g final sausage) of lean chamois meat, pork and beef. The raw sausage is then preserved by cold smoking.
The pronounced aroma of the Gamswurzen only obtained by the elaborate smoking and drying.
High qualityDetecting cheese defects and quality - on the cheese dough. Recognizing cheese defects requires some practice. » More info Gamswurzen are a special delicacy in our alpineThe Vorarlberger Bergkäse (mountain cheese) is a regional cheese specialty from the Austrian province Vorarlberg. » More info world. As a traditional snack sausage of the hunters, Gamswurzen as well suit perfect as proviant food for trips and hikes in the backpack.
The name Kaminwurze
The name Kaminwurze comes from the original way of smoking by the fireplace.
Kaminwurz history
Kaminwurzen is a cold-cured and air-cured raw sausage (originProtection of origin or protection of origin are statutory regulations. » More info from South Tyrol) made from beef and bacon back fatThe dry matter refers to that portion of the cheese that remains after removal of the water contained. The more water is removed from the cheese, the lower its dry matter and vice versa. » More info.
Kaminwurz recommendation
The sausage is eaten cold, cut into pieces or thin slices with bread. Gamswurzen are long-lasting without cooling. Ideal food for hikers, hunters and mountaineers.
Enjoyment classification Gamswurzen – smoked, cured dry sausage
The peculiarity of the Gamswurzen is the long shelf life with a slight wild chamois taste.
Gamswurzen intensity (mild – spicy)
Gamswurzen consistency (soft – hard)
Gamswurzen storage duration (1 – 6 months)
at least 2 months shelf life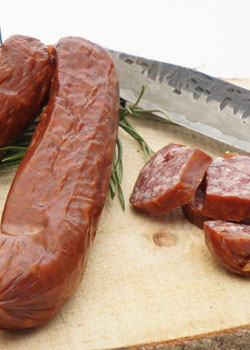 Interesting details about wild game chamois
Background information about our austrian native wild-species chamois
The chamois is a type of goat in Europe and Asia Minor. The chamois has relatively long, strong legs with relatively large hooves. Both sexes wear horns, also called "Krucken". These are up to 25 inches long and are turning. They are notched at the root in a circle, rising straight and bent backwards at the top.
The animal prefers to stay in the upper forest belt, but often rises in the summer up into the mountains. If the chamois are disturbed further down, it will go to the most inaccessible areas, from where it will visit the grassy fields between the rocks at dawn. Towards winter, they move further into the woods.
Special facts about chamois
Females and juveniles live in flocks of 15 to 30 animals.
Bucks live solitary and do not look for a herd until late summer.
Bucks drive male juveniles when they are old enough to compete with their counterparts.
The hunting of chamois takes place due to their way of life mostly in the high mountains. The hunt tedious and often dangerous
The meat of the chamois is tasty and is highly appreciated