ARTISAN RED DEER SAUSAGE FROM OUR AUSTRIAN ALPS | ideal breakfast sausage
Great sausage – great mild flavor – just a excellent product.
Discover with this high qualityDetecting cheese defects and quality - on the cheese dough. Recognizing cheese defects requires some practice. » More info food product – made with best ingredients and spices – a mild sausage everyone can enjoy easily. Our redAerobic cheese ripening means cheese ripening with oxygen. » More info deer sausage – made only with the best cuts of meat from local red deer and pork.
Discover a rustic sausage specialty with an outstanding, mild-spicy taste from our wild living Austrian game. This red deer sausage is lovingly made by hand with professional skills by our master sausage maker. So good old fashioned, old world type sausage is not easy to find.
It impresses with a slightly tender wild taste. Its characterised by a pleasant cut consistency. For 100 g of finished red deer sausage, 82 g red deer meat and 61 g pork are processedMelting cheese is a proven process to refine and make it more durable. » More info.
During the drying phase of about 14 days, this venison sausage gets its unique taste and loses about 30% of its fresh weight during ripening. Our master sausage maker produces venison sausage all year round with our native game. This sausage product ist fully cooked, smoked and ready to eat out of the package or be prepared to your liking!
Red deer sausage
Mild- spicy taste with medium cut resistance.
Sausage manufacturing
The red deer sausage is hot smoked, cooked and afterwards gently smoked in cold smoke.
Sausage recommendation
As a typical backpack sausage for hiking, but also ideal for sausage-noodle-dishes.
Enjoyment classification red deer sausage
The peculiarity of the game sausage is its particularly mild & fine taste.
Red deer sausage  intensity (mild – spicy)
Red deer sausage consistency (soft – hard)
Red deer ausage shelf life (1 – 6 months)
at least 2 months shelf life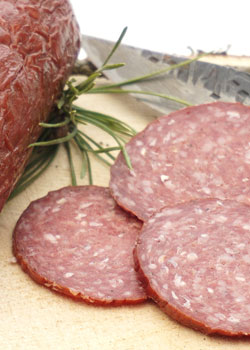 Interesting details on the wild living red deer
Background information on our native wild-type red deer
Red deer are the most powerful and largest antlers animals of our Austrian alps. Red deer are found around 12 subspecies worldwide. The red deer is a species of the real deer. Among the deer species, the red deer is characterized by a particularly large and widespread antler. This hunting trophy coveted antler is only developed by male animals. The red deer was originally a species of open and semi-open landscapes.
Due to the changed living conditions (road and settlement construction, tourism, …) and the changed recreational behavior of humans, the habitats for the red deer have been severely restricted in our Alps.
In contrast to the living in the flat land deer with 200 kg body weight, the deer in our alpineThe Vorarlberger Bergkäse (mountain cheese) is a regional cheese specialty from the Austrian province Vorarlberg. » More info region are rather heavy 150 kg.
Special facts about the red deer
Red deer have a number of different sounds. The best known is the roaring of the male deer in the rut that can be heard in the fall.
The female animals live with their young in packs, which are led by experienced adults.
The male animals have their own pack, with only the oldest deer of them apart as distinct loners roam.
Due to disturbances, the red deer has become dusk and nocturnal and is widespread in undisturbed areas up to the tree line (in summer even up to 2700 m).
The daily food requirement varies depending on the activity and is between 8 and 20 kilograms fresh mass at 100 kilograms live weight.
The deer renews its antlers each year from new and loses the old one. The size of the antlers depends on the age, the feeding and the health of the animal.
Deer are all senses very well developed. Including, above all, the sense of smell. A high proportion of the nasal mucosa is covered with an olfactory epithelium (olfactory mucous membrane).
The red deer was forced back into large forest areas by humans. In part, these human-induced changes and the reduction of its habitat are the cause of wildlife damage. Today, this leads to conflicts between hunters, forest owners and farmers.